The rugby sculpture
A proposal was unveiled yesterday for a Weta Workshop-designed rugby-themed sculpture to grace the city, somewhere, In Time For The Rugby World Cup.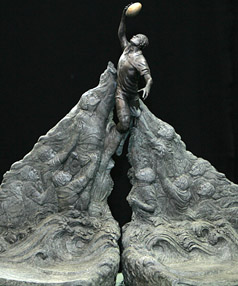 The sculpture is highly symbolic, with the DomPost providing a list of all the symbolism, but what does the sculpture most resemble?
A trophy for the Wairarapa Bush under-13's tournament?
Glorious Socialist Realist Sculpture to Celebrate Triumph of Workers over Capitalist Running Dog Referee?
A made-in-China knick-knack from "Gifts 4 Men" that you bought your uncle for his mantelpiece in a moment of desparation?
A tourist drawcard, on par with Dannevirke's Viking and Ohakune's giant carrot?
An iconic, edgy, world-class tribute to the creativity, imagination and uniqueness of Wellington?
A woman-positive depiction of a labia and vaginal opening?
Maui's last attempt to escape before being crushed by Hine nui o te po?