Get excited and buy things
Spring is in the air and Craft2.0 is back. Wellington's favourite indie craft market returns to TheNewDowse this Saturday October 30th. Instead of hibernating, loads of crafty types from wellington, and a bit beyond spent their winter months getting excited and making things, with one purpose in mind – Craft2.0.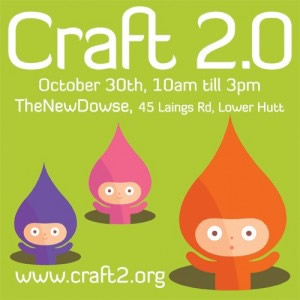 Craft2.0 is a special shopping experience, its talented stall-holders offer the chance to buy direct from the maker.  This fair Craft2.0 has pretty much exploded all over TheNewDowse for October, expanding upstairs with a free crafting room and a whole new space for shopping.
Some of you like me might shrink in horror at the thought of Christmas shopping, but Craft2.0 does make it a tiny bit easier, as a one stop shop of wonderful things. The other advantage of dealing  to Christmas shopping early is that you have more time for cocktails, parties and more cocktails in December.
So head along to TheNewDowse on Saturday between 10am and 3pm, eat cupcakes, make things, buy things for loved ones and bliss out in the wonderful world of handmade.
Or why not just eat cupcakes and treat yourself.