Cinephilia: Opening This Week
A New Year brings with it several resolutions and one of those is that I will return to regular contributions here at The Wellingtonista. So, until I collapse under the strain, every Thursday I'll present a quick rundown of what's opening at local cinemas.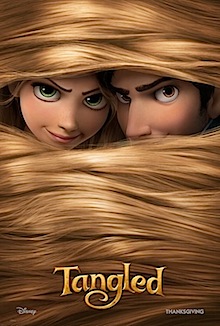 This week Disney offers us an animated 3D "adventure", Tangled (previously known as Rapunzel). Tangled forswears the usual big star voices in favour of solid character actors like Jeffrey Tambor and (Jaws from James Bond) Richard Kiel. Rapunzel is voiced by former teen pop star Mandy Moore. The 3D version is at the Empire, Lighthouse Petone, Readings, Event Cinemas Queensgate and a few sessions at the Embassy. There's a 2D version at some cinemas for those whose kids are too restless under the glasses or if the new technology gives you a headache: Empire, Readings, Penthouse and Event Cinemas Queensgate.
The new Captain Kirk (Chris Pine) gets another starring role, this time alongside Denzel Washington in the runaway train thriller Unstoppable. An enormous freight train full of toxic waste is barrelling across Pennsylvania with no one at the controls. Pine and Washington are in pursuit in another locomotive. It's one of those race-against-time things and a reuniting (reunite-ment? re-unition?) of Denzel, director Tony Scott and transportation after The Taking of Pelham 1 2 3 in 2009. Inceidentally, IMDb has a list of 22 different projects that Tony Scott has in development at the moment. Madness. Unstoppable is a Readings and Event Cinemas Queensgate only affair.
The only concession to the arthouse crowd this week (although for some reason not showing up in the listings at Flicks) is French romance Mademoiselle Chambon. The title character is a shy primary school teacher (played by Sandrine Kimberlaine) who falls for taciturn builder (and parent of one of her students) Vincent Lindon. Lindon is well-known to local audiences for his work in thriller Anything for Her and refugee drama Welcome, both of which got a local release last year. More class-conscious fare from the French, it's a Penthouse exclusive.
Lastly, Harrison Ford was once the biggest movie star in the world but his last two films went straight to video here. He is still making movies (and Indiana Jones 5 has been announced) and in Morning Glory he plays a gruff professional journalist coaxed out of retirement to co-host a breakfast tv show – sort of Paul Henry to Diane Keaton's Pippa I'm guessing. The film is really about producer Rachel McAdams and her attemtps to restore both ratings and sanity, Morning Glory is directed by Englishman Roger Michell who has form in this sort of romantic comedy – he made Notting Hill. It's playing all over the show (specifically the Empire, Lighthouse Petone, Readings, Penthouse, Event Cinemas Queensgate and the Embassy) and it's the film I'm off to see tonight.
All these films (and the rest of the Summer Holiday programme) will be reviewed at Funerals & Snakes on Tuesday 18 January and in print in the Capital Times the following day. While you are waiting you can read my summary of the cinematic 2010, posted just the other day. Or you can post your Summer cinema experiences in the comments below.