Camping at Circa
While lots of Wellingtonians are off holidaying in remote parts of the country (huddling under canvas, finding sandbags to keep the creek out, hoping the caravan doesn't blow away) Circa Theatre have kindly brought the camp site to those of us who stayed at home – in the form of Dave Armstrong's new play The Motor Camp.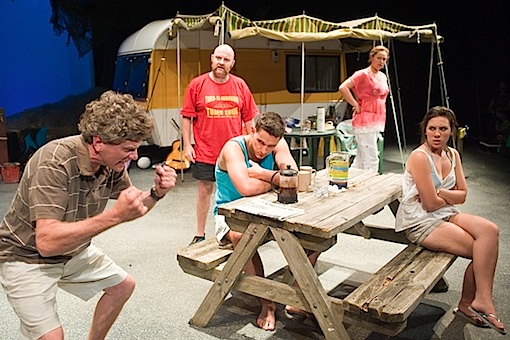 The Redmond family have arrived at The Windmill Motor Camp after a tiring six hour drive from Wellington. Frank (Tim Spite) is what used to be known as a Teacher's College lecturer, now a kind of second-class citizen at the University. His wife Jude (Danielle Mason) is a high flyer – running the entire Arts faculty – and teenage daughter Holly (Florence Mulheron) is reluctantly along for what she hopes will be her last holiday with the family.
The Windmill seems to be run along strict, almost military, lines by an unseen Dutch tyrant named Zonneveld (a consistently funny voice over from Cees Ebskamp) and the Redmonds are asked to set up their caravan far too close to the Hislop-Tairoa clan next door. Mike Hislop (Phil Vaughan) is a builder and all round dag, Dawn (Olivia Violet Robinson) keeps the books for his business and tries to keep Mike going in one direction and their teenage son Jared (Anthony Young) helps around the camp while shyly attracting plenty of female attention.
So, here we have a classic Armstrong-ian setup – a potential clash of classes, races, sexes and ages – and an equally classic payoff: nothing is quite as it seems and everyone would appear to have a secret. Armstrong's usual anti-PC schtick invariably disguises a powerful sense of right and wrong – he attacks prejudice by showing what an unsatisfactory way it is to look at the world, not by ranting at us.
The production, directed by Danny Mulheron who also provided the bones of the story, plays up the humour – the two guys, Spite and Vaughan, get all the best moments – but I wonder whether there were more opportunities for pathos or whether more could have been made of the opportunities that were there. Armstrong and Mulheron build us up to a hell of a dramatic conclusion where the two families could easily (and in a different play probably would have) imploded but in less than a heartbeat we get a not particularly credible ending and a curtain call and then we're on our way home.
Which is a shame because Armstrong uses impeccable plotting talent to get to that point. Seeds are carefully sewn, events are cunningly foreshadowed and even the many gags don't go to waste as he scores points on topics as diverse as phonics and fishing.
Spite and Mason spark well together even if they might be a little too young for their roles. Vaughan has superb natural timing and a great look but was sometimes not that easy to hear and Robinson doesn't really have enough to do as her character is the least rounded of the cast. The kids are great: Florence Mulheron is a totally recognisable petulant teen and Young is effective by not doing much – he's a calm, centre of the storm going on around him but it's a character-driven calm – not an actor not acting (if that makes sense).
Dave Armstrong is a Wellington treasure. He hides a good heart behind a cynical exterior and is the only playwright I know consistently writing about New Zealand society as it really is – and doing it with plenty of laughter. The Motor Camp is a fun night out, definitely not disposable theatre, but it lets itself down with a too easy ending.