Christchurch
A rather violent earthquake hit Christchurch yesterday, and it has devastated a city that, quite frankly, has had enough of feeling the earth move.
People are helping where and when they can.
We do know that this is one situation where throwing money at a problem can help. It might not fix everything, but right now they need money in Christchurch. Just remember to donate your money through trusted organisations like Red Cross , The Salvation Army, Christchurch Women's Refuge, the Mayoral Relief Fund or your local bank. These and other trusted groups know what is needed on the ground and what will be needed in the future.
Here's what is happening in Wellington
Our geeky, arty and coffee-loving city is giving back in geeky, arty and coffee-loving ways, plus more.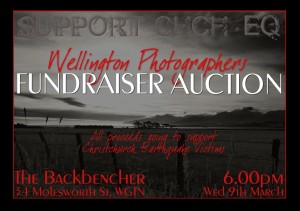 Wellington Photographic Supplies has organised an auction of donated photographs to raise money for Christchurch earthquake
recovery.
Date: Wednesday 9 March 2011
Time:  6.00 pm
Place: Backbencher, 34 Molesworth Street
——-
Geeky volunteers have spent the day in offices like Catalyst feeding data into eq.co.nz, and more geeks are gathering at Victoria University to continue the work. If you are keen to help volunteer for the http://eq.org.nz Christchurch Recovery Map service, please email eqnzfeb@gmail.com as they need more people to help.
TradeMe are working on a free listing service where people can list offers of housing and transport for earthquake victims .
Many Fringe performers are giving away the profits of their shows. Percentages vary, and it's unconfirmed if this is for a specific show or the whole season. So follow the Fringe Friends of Canterbury Facebook page to find out more.
From Christchurch & stranded in Wellington?
To help you get to and from temporary accommodation, Snapper left a supply of Snapper cards with some credit at the Wellington i-SITE Visitor Centre (Civic Square, Corner Victoria and Wakefield Streets).
Monsoon Poon, Boulcott St Bistro and Osteria del Toro are offering  some hospitality. Just call 04 8033555, or 04 3812299 or 04 4994199.
So what else are you doing Wellington? Drop it in the comments and I'll add it to the list.