Two Pecha Kucha Nights
If you're like me, you've spent the last few days feeling rather glum and not in much of a going-out mood. But there are a couple of Pecha Kucha Night events coming up in Wellington this weekend that look pretty good – one with an arts theme, the other with a science theme (including a seismologist!)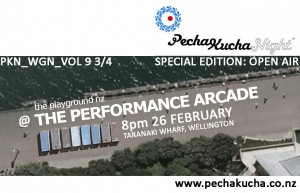 Arts – Saturday 26 February, 8pm
Taranaki Wharf
Tickets $5 (cash only).
Bar open from 6pm, starts 8pm.
On Saturday night, there's an arts-themed open-air PKN in the Performance Arcade on Taranaki Wharf. The Performance Arcade is a series of shipping containers in front of the harbour side of Te Papa.
And it features these speakers:
David Stubbs // director // Krafthaus Films/ KFH Media //
chitty chitty bang bang with a free set of steak knives
Sarah Hunter // photographer/filmmaker // Transmit media
Sophie Zhang // TV producer and documentary director // – Only Me Generation: a documentary about China's 'One Child Policy'
Pat Shepherd // photographer // Focus on Photography
Mark Harvey // performance artist // On Performance, Labour, and Idiocy
Joe Bleakley //About the Island Bay Sund Festival
Catherine Bagnall // artist /
Leo Gene Peters // Theatre Director/Creator
Lynda Chanwai-Earle // playwright / actor /poet
Anton Carter // musician // Marked for life: The Art of Tatau from Oceania
Marcus McShane // Lighting Designer / ecocontraption inventor
Science – Monday 28 February, 7.30pm
And on Monday night, there's a science-themed PKN at Downstage Theatre. Among the brilliant scientific speakers on the line-up, there's seismologist Helen Anderson, who is sure to have something very interesting to say.
On Monday 28th February @ 7.30pm Pecha Kucha Night Wellington will present the Science Session curated by Christine Harper and Elizabeth Connor at Downstage Theatre, 12 Cambridge Terrace, Wellington
Confirmed speakers for PKN_WGN_VOL_10 include:
Paul Callaghan // Physicist, Communicator and Entrepreneur // Science and New Zealand's future: an ironical perspective
Elf Eldridge // Nanotechnologist, Physicist, Mentor // Viral Technology
Bill Williams // Biophysicist // The Inexorable emergence of the complex
Elizabeth Connor // Science communicator // Atman: A lifetime Inspiration
Craig Stevens // Oceanographer // Ocean Powers of Ten
Sea Rotmann // Marine Biologist /energy behaviour researcher // The Kraken Rises
Shaun Hendy // Theoretical Physicist // too many cooks spoil the broth or many hands make light work?
Nicola Gaston // Theoretical Chemist // the case for Sklodowskium
Ruth Beran and Alison Balance // Broadcasters // Science Radio and the Theatre of Mind
Helen Anderson // Seismologist and recovering public servant // Living on the Edge
Hamish Campbell // Geologist // Zealandia: nuclear-powered, twice-cut and ripped
Heidi Meudt // Research Scientist // A botanical life across three continents
Haritina Mogosanu // Space Explorer // about life on mars
Pecha Kucha New Zealand have a recommendation for another charity to support – Architecture for Humanity. It's a group that aims to use architecture and design solutions for crises. And Christchurch deserves some beautiful design.