The little Fair that Could – Turns 5
Saturday marks the 5th birthday of Craft2.0, it's not only wellington's biggest space for all things bespoke, handmade and indie design, it's also New Zealands. Which is something pretty awesome and rather special, that's happened because people keep visiting the fair and discovering all the new talent — and yes shopping.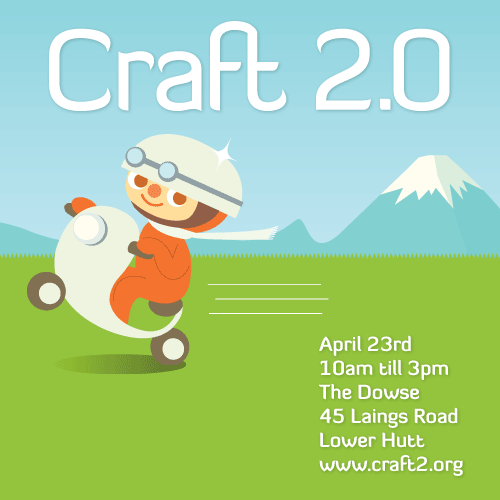 Craft2.0 is held at the Dowse Art Museum, Laings Road, Lower Hutt — easiest way to get there is by Valley Flyer (num. 91). The doors open at 10am and close at 3pm. Friends of Craft2.0 get in half an hour early and also get a big huge bag of discount vouchers and crafty treats and tasty treats to see them through a day of shopping.
There are some BIG 5th Birthday Celebrations lined up:
The Amazing Travelling photobooth will be upstairs taking free photos till 1.30
A windy Wellington inspired free Craft Project Upstairs in the work room
Our hugest prize draw yet — all you need to do is donate to the red cross Christchurch appeal to enter
Spot prizes all day long for shoppers, which range from gift bags to badges and super yummy fudge from Café Reka.
Also upstairs you can donate item to the Fukudamachi Kindergarten Project, Japan Disaster Relief. We welcome any donation of handmade items that reflect the following considerations:
Children are aged 3-5
Clothing items are required more than toys
Clothing can include skirts, shorts, tops, dresses, polar fleece, hats
Japan is heading into spring, but it is still very cool in the mornings/evenings in that part of the country (in March it is still snowing!)
Please consider weight and bulk
All items must be new (customs regulation)
Then at 2pm it's the event inside an event – the Great Welly Jam off where 24 jams go head to head in a challenge to see which is the most tasty. Possibly the most exciting  choice will be between our Tom's damson cheese and wife Viv's jam. They are going head to head, and all I can say is that I hope that jam will be the winner on the night.
So plan a day out at the Dowse, there's a fully licensed cafe, loads of great exhibitions and a craft fair like no other.