Festival 2012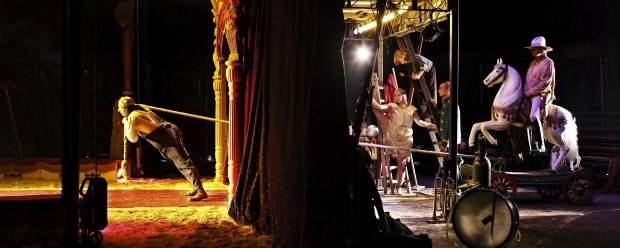 I'm old enough to remember when the Arts Festival was known archly as The New Zealand International Festival of the Arts. In recent years the name has been tidied up but the goal has remained the same – bring really cool, really great, international artists to Wellington and showcase their work alongside the best of our homegrown talent. That mission is always going to cause, shall we say, discussion – and challenging the assumptions made by our cultural gatekeepers is generally a good thing – but I don't think anyone can doubt the effort, commitment and dedication of the Festival team under Lissa Twomey and Sue Paterson.
So, seeing as I didn't get an invitation to last night's launch – or a goody bag – I have spent the morning trawling the website looking for personal highlights of next February/March. Feel free to add yours in the comments below.
FREE – Full marks to the festival for recognizing that a) times are tough b) taking a whole family to an event can be punishingly expensive and c) Wellington ratepayers have paid for a lot of this stuff so should be able to get some of it for free. There's a whole, easily accessible section of the site for the Free gigs and my pick is the Maori Troilus & Cressida , performed in the Te Papa amphitheatre – definitely worth a look before the show heads to London to be part of the cultural Olympiad.
THEATRE – is my specialist subject so I take a close interest in the Festival selection but, Christ, where to start. There's lots there for me to stick a pin in but I'm really excited by the New Zealand selection. Gary Henderson's Peninsula has been missing in action for Wellington audiences for several years and finally we get to see it – well done to Circa for making it part of their Festival programme. Tawata Productions are adapting Patricia Grace's brilliant novel Tu for the stage and I'm not entirely sure how they are going to pull it off. That short season is going to be at Thorndon's Pipitea Marae for only nine performances. I'm sure @librarykris will have plenty more to say about the theatre programme, including Taki Rua's revival of Michael James Manaia at Downstage.
DANCE – Brazil is so hot right now so I have to pick Parabelo/Onqotô by Grupo Corpo. But I know not much about dance so I might be missing out by not picking the manga-inspired Tezuka with music by Nitin Sawhney.
MUSIC – Lots of people are already squee-ing over the programming of Bon Iver (although if the last festival's foreshortened Calexico shows are anything to go by we may not be getting the full deal). My attention, meanwhile, is drawn to the brilliant Libyan/Mailian mix of Tinariwen.
THE FESTIVAL CLUB looks like a hoot . I really want to see the two-man recreation of Mike Oldfield's legendary prog-rog opus Tubular Bells.
WRITERS & READERS – the full programme for W&R doesn't get announced until the end of January so we shouldn't expect too much from this early li- wha? Holy F-! Richard Price is coming for Writers & Readers.
VISUAL ARTS – Despite the medium being corrupted by the Grand hotel playing giant kick-boxing fights on its walls from across the street, I really like the idea of giant architectural projections so I have to pick Michel Tuffery's First Contact 2012 on the walls of Te Papa as my visual arts pick. It's also in the Free section. What do you think?
And don't forget, there's going to be a Fringe again from 10 February to 3 March. What a great summer we are going to have.