Wellington in a Pint (or four)
"Would you like to come and drink free beer?" the message asked. What does a self-respecting barfly say to that? 'No'? And so the Fly found itself buzzing around the advertising types at the Fork & Brewer last night for the launch of Clemenger's new Wellington in a Pint campaign.
Advertising types are not the Fly's usual crowd, but the Fly likes Wellington, the Fly likes pints, and the Fly cannot help admiring the Clems for dreaming up the most devious way of putting an awful lot of beer on the expense account that it has ever seen.
It works like this: Clemenger has got together with the Craft Beer Capital pubs plus breweries Tuatara, Garage Project, Parrotdog and Yeastie Boys (devastatingly handsome and intelligent folks all) for a competition to express the Wellington experience in the medium of beer.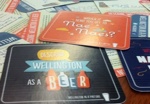 Punters submit their ideas of what Wellington in a beer would taste like through the internet, or on the special beer-mats in the participating pubs; in April, these ideas become the basis for a home-brewing competition from which four big winners will be selected and turned into real, commercial limited-edition beers by the breweries. You, gentle reader, can get your round in on the Wellington in a Pint website, on Facebook or Twitter (@wlginapint, #wlginapint), or—and the Fly particularly recommends this option—throw yourself a pub-crawl using this Google Map or this Foursquare list.
The Fly's evening was rather soured, though, by Councillor John Morrison using his two minutes on the mic—while supposedly representing Positively Wellington Tourism—to do a 'hurr hurr the Mayor's a hippy' routine. Don't be a dick, Mystery. Beer is deliciously apolitical.
Tacky political antics aside, the Fly approves. And it was particularly entertained by the random brewery name generator in the website sign-up form; it will be finding whatever excuses it can to work "Swan Splat" into conversations henceforth.