You should have lunch at Duke Carvell's this July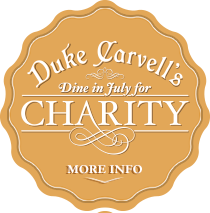 July would be a really good time to have a weekday lunch at Duke Carvell's on Swan Lane. Why? Because a) it's delicious and warming and b) they'll donate 20% of your bill to one of a range of charities. Bloody good work!
Our Tom B is the Mayor of Duke Carvell's (well, on Foursquare at least), so I asked him for recommendations about what to order.
Duke's menu is built for sharing, and many of the dishes could do multiple duty as tapas, entrees or sides. You could put yourself together a vegetarian combination from their small plates, including creamy sage and gorgonzola gnocchi, preserved vegetables, green beans with mustard and saffron flatbread. Or you could go for a cheesy feast, starting with ouzo-flamed halloumi, sharing an obscenely oozy whole baked Camembert, and topping it off with a pungent selection of French fromage. But if you really want to pig out, I heartily (or heart-attackily) endorse the innocent-sounding pork board, or as I call it, All Of The Pork: rustic pate, thin slices of spicy salami, exquisite apple and mustard glazed ham, crispy crackling, and deep-fried pork belly.
Yuuuuuuuuuuuum.