More WOAP: the bland, the sublime and the curious
As I said before, I'm working my way around the lunchtime Dine menus of places near my work. Here's what I've got to report.
1. Vivant
2. Little Beer Quarter
3. Ti Kouka Cafe
4. Finc
The social club at work selected Vivant, probably because they offered a meal for only $15 (no wine included). It was just okay. We'd all ordered in advance and and someone super organised directed the waiters with our food so we were served pretty quickly, but no one came by to see if we wanted to order drinks. I had the "Fresh tomato, feta and basil bruschetta with Olivo olive oil" because I didn't know what the soup of the day would be (very average-looking tomato soup, apparently, although I'm not sure if we were told that). Of course it's the middle of winter so the tomato was pretty tasteless and the feta very sparse. It was two very miserly pieces too. The Parkvale mushroom and pea risotto with Kapiti Pamaro New Zealand parmesan and mizuna leaves was better, with the mizuna leaves definitely making the flavour more interesting (though to be honest I thought they were rocket), but it was very much the sort of default vegetarian option, y'know? If your social club takes you to Vivant, the steak sandwich looks to be a better option, assuming you eat meat (I figured I'd be eating enough burgers that I didn't want to go that option). For $15 it was an okay lunch, but really, there are so many more interesting places to eat in Wellington, why settle for bland?
A vegetarian friend chose LBQ off the list of places I wanted to go to, because she was excited there were vege options, while I was excited to choose between venison or hare. We met there at lunchtime in Wednesday, showed ourselves to a table in the half-full place because the staff didn't deign to pay us any attention, and then my friend went up to the counter to ask for some menus. Apparently if you want to eat the Wellington on a Plate menu, you absolutely need a reservation. Since we hadn't been expecting that at all, we left. I've had nothing but shit service at LBQ (waiting nearly an hour for entrees at lunchtime in an empty pub, then having your mains arrive at the same time stands out in particular) so I won't be going back.
Instead my vegetarian friend and I went to Ti Kouka which I had planned to go to with another friend the next day. They were very busy, but we were able to perch at the high tables at the front and were moved to a booth when one opened up. The very friendly staff let us know the kitchen was very busy and made sure we weren't pressed for time – an awesome thing to do especially at lunchtime. They also let us know (unprompted) that if we were vegetarian, it was possible to get pasta from the regular menu as part of the Dine deal – lovely. The only trying part of the experience was being forced to choose only two courses. My friend was getting the haloumi so I decided to go for "Kapiti cauliflower and parsnip soup with lamb, Hinau lemon olive oil and Zany Zeus greek yoghurt". I'm pretty sure it was one of the best bowls of soup I have ever eaten, ever.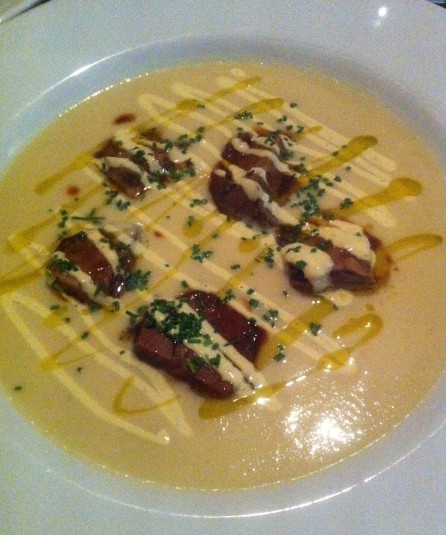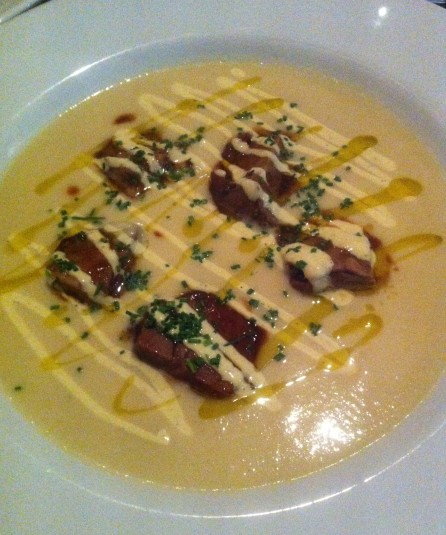 The soup itself was as smooth as velvet, full of flavour that was zinged up with the olive oil, and the rich greek yoghurt. The pieces of lamb shoulder had obviously been slow-cooked, and were just fatty enough to really represent the rich deliciousness  that lamb should have. Oh my god, I could have eaten bowls and bowls and bowls of this soup. I will probably dream about it, and possibly involve it in my sexual fantasies. Maybe.
A dish like that is hard to follow, but the Wairarapa free range pork sausage with confit duck, braised whero peas and Greytown Gold saffron aioli gave it a damn good go (Actually, on the printed menu it said Island Bay sausage, but I'm going off the website here).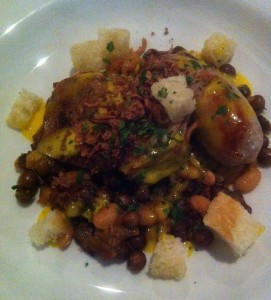 I guess you could call this a sort of cassoulet. It was incredibly rich, with confit duck and sausage both unctuating all over the place. You probably might not want to have this with the soup, actually, unless you have a Creosotesque palate, although the Mebus merlot did cut the fat well. I didn't snap pictures of my friend's food, but it was delicious too, let me assure you. And despite their business, and how I lingered over every mouthful of that soup, I was in and out in an hour. $35 definitely well worth it. Go back in time and don't bother reading this review, just head to Ti Kouka straight away.
The food at Finc was very nice, but I think they are taking advantage of Wellington on a Plate customers. I decided to get the dine menu for $35. A more financially restrained friend decided to order cabinet food. Follow along with me.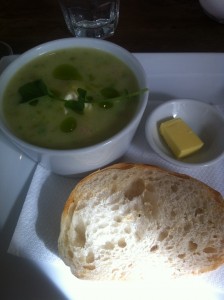 I don't like peas or ham in their standard forms, but I did like the "Creamy potato, smoky ham hock and green pea soup with Zany Zeus organic crème fraîche". The watercress (or pea shoots?) added some freshness, the chunks of ham were smokeygoodness and I gotta get my ass to the Zany Zeus shop real soon cos their stuff is delicious. It was a good soup, but it wasn't great. Things like the butter for the bread being too hard to spread actually make quite a difference. And then I had a pie.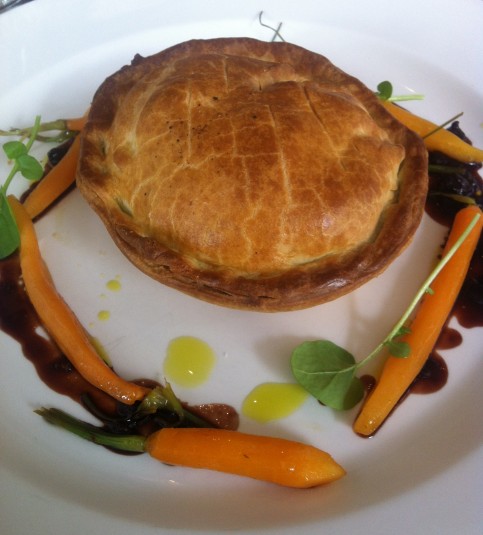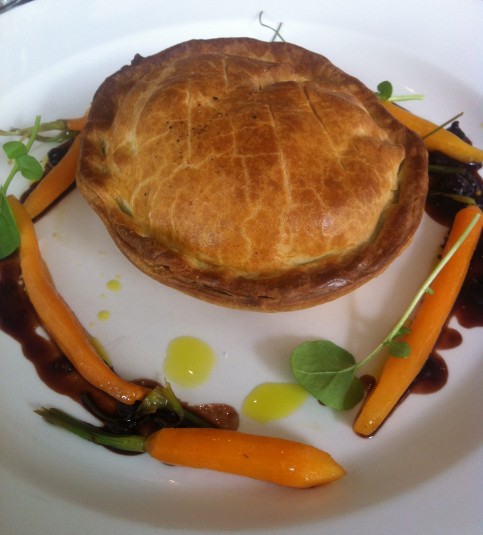 It was a delicious pie, although to be honest it could have been beef instead of venison, the chocolate taste was pretty strong. But the pastry was great, the meat tender, all the good things. My friend on the budget also ordered a pie from the cabinet, and paid $10 for it. It came on a plate ringed with a drizzle of nice olive oil. So if we say that the soup was worth $10, the glass of wine another $10, the carrot garnish on my plate cost $5? Hmmm. And the Welly on a Plate burger they're offering sounds EXACTLY the same as the one that's on their menu regularly, except it costs $25 instead of $21. I see Wellington on a Plate as a way to get exceptional value as a way of getting more people to try more restaurants. Finc, it seems, sees it as a way to jack up prices. Go to Ti Kouka twice instead.