Review: [title of show] take two.
I realise Kris has already given a review of [title of show] but I figure I may as well throw my thoughts into the ring. There's no such thing as too many voices on the internet right?
This review consists the one-two punch of a guest review from my partner Laura, followed by my take on [title of show] hence this is a wee bit lengthy. Laura LOVES musicals while I frequently find myself watching them, thanks to afore-mentioned Laura, and tapping my feet along.
There's only four nights left to see [title of show] and both Laura and I recommend going to see it.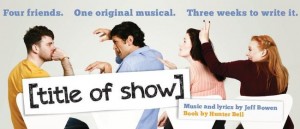 Laura "Intensely obsessed with musicals" Vincent (@HungryandFrozen)
I never expected to see a local production of [title of show] – for one thing, it's so theatre-centric, with its wisecracks about Alice Ripley and Barnum and Sutton Foster – and I'd place those at the mid-level of obscurity as far as the in-joking goes. Being a desperately intense fan of musicals in New Zealand can be like having a delicious secret to hug to your chest, so to suddenly have this musical that I'm particularly attached to appear in front of me suddenly at the Fringe Festival means – and I say this with all sincerity – having to confront a lot of emotions. I just never thought I'd see it performed live. What if it doesn't live up to the perfection that is the original?
Like the movie Cabin In The Woods, [title of show] unpacks the tropes of musicals while still adhering to many of them – a song about winning a Tony award ("Papa, would that change the way you saw your little boy, now he's a man AND HE NEEDS YOU") is dismissed as obvious pandering, yet the character Heidi still gets her eleven o'clock number in A Way Back To Then. The fact that the original actors were playing themselves added an extra layer of intrigue, but also poignancy. Like Shakespeare, your ears eventually attune to the language, so that even if you don't know why Alice Ripley is described as "fierce", the adjective at least gives you a clue as to her importance, and there are still plenty of broader jokes to make you feel included. (Plus, look her up on youtube singing I Will Never Leave You with Emily Skinner. Fierce isn't the half of it.)
Energy Theatre's production: I really loved it. Oh sure, as a non-singer theatre lover I have long harboured a dream of playing my idol Susan Blackwell in a New Zealand premiere of [title of show]. It's no-one's fault that someone else thought to stage it before I did.
Though the material is so snappy and crammed with jokes (some of which admittedly do not sit as right with me as they used to) that all you really need is to be faintly charismatic and a not bad singer and you'll be fine, I truly felt like the four actors playing Hunter (William Duignana), Heidi (Marylouise Thomas), Susan (Sarah Andrews Reynolds) and Jeff (Waylon Edwards) had really studied the characters, considered their physicality, their interactions, the real people behind what they were saying. Interestingly, the actors playing Heidi, Jeff and Hunter felt notably close to the performances of the originals, whereas the actor playing Susan moved further away from Susan Blackwell's drier style of delivery to make the role her own. There is certainly something admirable about both those directions and acting choices. Some other things I enjoyed: they all had excellent chemistry. The brilliant execution of some of the trickier numbers like Monkeys and Playbills. The beautiful one-two punch at the end with the gorgeously sung and hugely touching Way Back To Then segueing into the utterly endearing Nine Peoples' Favourite Thing. And the American accents didn't jar at all. Occasionally it felt a little overacted, but what can you do? All in all, despite my deep attachment to the original, there's some lovely parallels between the actors portraying the characters' fears and joys of putting on a show, while themselves putting on a show. About two guys writing a show. About two guys writing a show.
Tim "occasional singer in the shower" Herbert
I went along to this for two reasons. Firstly: I enjoy the escapism that musicals offer and the second reason is: Laura HAD to see this musical. Her first reaction on hearing that [title of show] was being performed was "What?! I'm meant to be Susan!"
[title of show] is a good musical. Not a great one, but a good one. Only one of the songs really stuck with me but perhaps having a song stick is what any musical wants. The singing ability of the four actors was solid but I didn't really get any "WOW!" moments that blew me away. The pulling together of nearly every musical trope into one show can leave those new to musicals sitting in the dark a little. However there are so many 'in-jokes' in there that everyone can feel like they are in on the fun.
What makes this musical worth going to see is the characters. Being a musical based on the four people who worked on making [title of show] means the dialogue and rapport the actors have with the audience is key to its success. At first the actors performances it all felt a bit 'too theatre-y' for my liking. Like they were trying a bit too hard to be the over-the-top-quirky-people that the characters are supposed to be. Over acting is a risk you take with small productions but I feel director Tabitha Arthur did a great job in toning that down and letting the writing and characters do the work. The actors were great and by the end of the show it wasn't four actors putting on the Energy Theatre's production of [title of show] it was Hunter, Jeff, Susan and Heidi (Larry doesn't count. Sorry Larry.) attempting to write a show in three weeks.
The penultimate song nails what this musical is all about. It shows why this musical is special. It leaves you wanting more people to take up its mantra and attempt creative endeavours. It's worth sitting through the in jokes that fly over your head along with the laugh out loud use of oddly named musicals to get to get the inspirational buzz that underpins why Jeff and Hunter want [title of show] to exist.