Old halls come alive with new music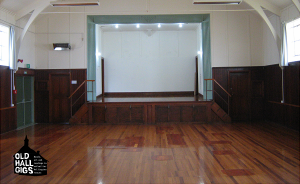 You know the drill. You go to the same bar every week and pay tons for booze, and have to deal with a loud crowd who are just there to be seen and who talk through the music you've paid to see, and you just think "ugh! I hate this, it's all the same and it's crap".  Well hopefully Sarah Smythe and Thomasin Sleigh have the solution for you.
The pair have teamed up to produce  a series of gigs are taking place in old halls around Wellington throughout 2013, going by the name Old Hall Gigs.
"Old Hall Gigs was created because we were dreaming of non-rowdy places to listen to our favourite bands. It is a roving series of events taking place in halls around Wellington. The events will allow for close listening and attentive watching.

Each Old Hall Gig will include readings from local writers (thanks to Hue & Cry), work by visual artists, and contemporary dance. There will also be performances by solo musicians and bands from unexpected genres. Whilst the title of the series implies music events, we enjoy a lot of different types of art, so each evening will be a carefully callibrated couple of hours of visual and aural activity.

Old Hall Gigs hopes to reinvigorate some of the community halls around Wellington and to encourage each local community to take part and share these events with their families and neighbours.
The first event will take place on Saturday 18 May at the elegant Vogelmorn Hall in Brooklyn.
The line up for the night includes the beautiful music of Wellington-based duo Glass Vaults, a sculptural installation by the artist collective of Sarah Hudson, Bridget Reweti, Terri Te Tau, and Erena Baker, readings by bright young poets Lee Posna and Hera Lindsay Bird, and a solo violin piece by composer Tristan Carter. Also: it's BYO – bring your own cup as well.