Help Ivy save the dinosaurs!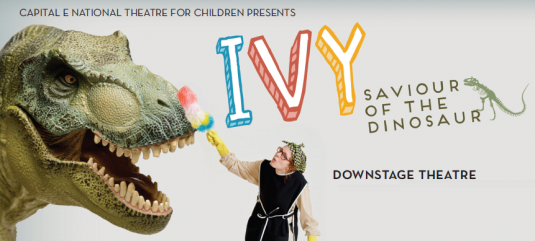 It's school holidays again, and if you're in charge of young people, chances are you've already heard that "I'm boooooooooooooooooooooooored". We'd like to help you out with that (not just because it's also in the best interests of the non-child-havers to keep kids occupied, honest)!
So, we're giving away a family pass (four people) to Capital E National Theatre for Children's Ivy Saviour of the Dinosaur for Monday July 22, at 1pm at Downstage Theatre.
Ivy is a museum cleaner by day, but by night, she's a paleontologist and her cleaning cart becomes a time machine. The show is created for ages 5-14, but adults will enjoy it too, because it's no pantomime style "look out behind you" cringe fest. Instead, it's an intelligent romp through history. From a clash with Cleopatra to schmoozing with Shakespeare, and even a detour to the moon – our quirky queen of clean lets nothing distract her from her mission to save the dinosaurs from certain extinction. Watch creator Jennifer Martin tell you more:
http://www.youtube.com/watch?v=NApdNIM_oTI
Okay, so how do you win? Let's make this real simple. Leave us a comment, and tell us that you want to win. That's all you gotta do! We'll draw one at random at 4pm tomorrow and be in touch. Of course,  if you don't win, you can still book tickets through Capital E or Downstage Theatre.