Galaktoboureko, kakapo and orange ginger jam
Oops, its already Tuesday.  Too busy at WOAP Pecha Kucha Imbibe last night!
I have to start this week with lunch on Saturday at Haya café, and in particular the galaktoboureko (an experience for the tongue in many ways!).  A greek sweet with semolina-based custard in phyllo, often served with lemon, orange or rose.  On this occasion it came with orange syrup and slithers of candied orange, and was pretty damned fine (as was the gluten free chocolate cake I'm reliably informed).
Haya is a small deli/café in Aro Valley doing delicious handmade food Wednesdays to Sundays and simple BYO-wine dinners on Fridays.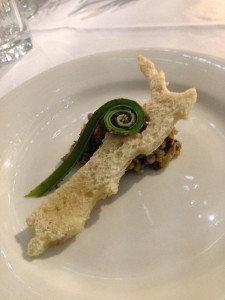 And then came Kai and Kakapo as part of the WOAP whirl. Because this one is done for the year, I shall tell you about it, but please feel free to skip to the end if this isn't your cup of kawakawa.
An evening mini-tour inside the fence to meet Sirocco the kakapo (who's become the spokesbird for kakapo salvation) was followed by dinner using native ingredients throughout.  And done very nicely.  Sirocco spent the time with us wandering along the window and checking us out so not really sure who won that measuring contest.
The dinner started with kawakawa pesto with crut and piko piko fronds, followed by horopito smoked fish with roasted kumara, taro (we apparently have a NZ-specific one) and Maori potatoes in a kawakawa coconut sauce, with a salad of water cress, baby rocket and native greens of rareke (puha), pirita (supplejack) and ti kouka (cabbage tree), and a manuka honey dressing, and to finish, a native flaxseed and manuka honey cheesecake with a horopito and lemon truffle, a kawakawa shortbread wafer and a shot of homemade kawakawa tea on the side.
Phew!
The truly remarkable bit is that the kitchen team have been growing all these plants and harvesting all the components over recent months in preparation.  All accompanied by a sustainably produced Kaimira Estate chardonnay or Bee's Blessing Elderflower mocktail (soooo good that they made an effort for the non-drinkers), this experience was truly home grown and very smart.
Zealandia are experimenting with this type of food for their Rata café, so definitely another place to keep an eye on (and Sirocco is there until 3 September if you fancy meeting a spokesbird).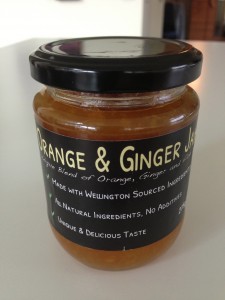 And to finish this week, a fine jar of orange and ginger jam from the winners of the high schools 2013 Lion Foundation Young Enterprise Scheme Dragons Den competition (go Tawa College!).  Although not yet tested to support label claims, the group decided to make a jam that had vitamin C nutritive value from oranges, aloe vera, lemons and ginger (and the obligatory sugar for body and preservation).
They're considering alternates to the use of sugar and are aiming for Massey University nutrition testing for their nutritive content.  Man there's some smart youngsters out there.
I'm having a hankering for scones, jam and cream now.  Until next week…