WOAP: what I've dined on so far
It's been a week of eating, and I tell you, I've definitely got the meat sweats. I do it for you, gentle reader. Here's some advice about what you should and shouldn't be eating over the next week.
The burger at The General Practictioner
(We already reviewed Parrotdog + La Boca Loca. Based on that, go eat their Dine menu or burger too)
The Dine menu at Beach Babylon
The Dine menu at Foxglove
(There should be the Dine menu at Le Corden Bleu in here, but then there was an earthquake and it was more important to go home and see my cats and drink all the wine)
The Dine menu at The Hop Garden
The Dine menu at Coco at the Roxy
The Kashbaabaa Burger at the General Practitioner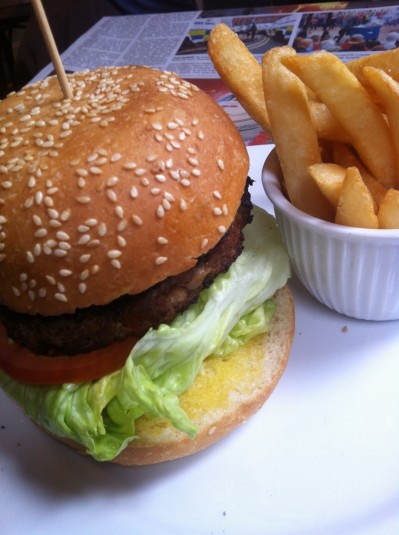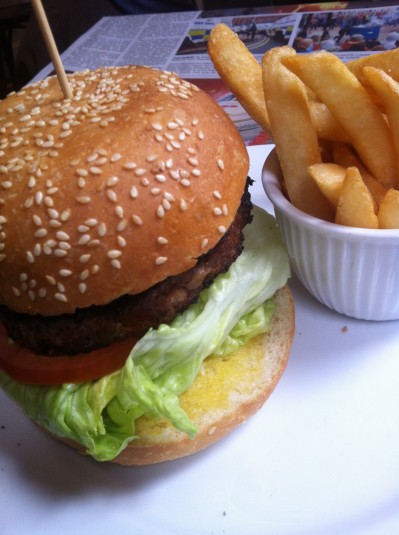 Hand-ground spiced lamb and date patty with chilli, almond and coriander pesto, in a Pandoro bun, with chunky chips
I chose the GP because it was close to work, and because I'd enjoyed their burger last year. This time it was decidedly average and I wish I'd gone for their Dine menu instead.
Dates in the lamb patty itself was an interesting idea, but didn't have much of a taste. The sauce was good, but there wasn't enough of it, the chips were bland – they should have been served with a side dish of the sauce for dipping, and the bun was just nothing special at all. if you paid $12-15 for this burger, you'd be happy, but given it was $22, I don't recommend it. Pete Watson, the official burger blogger gave it a 7/10, but then again, he wasn't paying for it. I didn't get any feta in my burger and it's not listed on the ingredients either, so I don't know what he's talking about there.
Service was fine, and there were plenty of newspapers to read, which is a good thing for solo dining, but reading back on my review from last year, it seems flaccid fries and bad buns are a reoccuring feature so I will not order their burgers again.
The Dine menu at Beach Babylon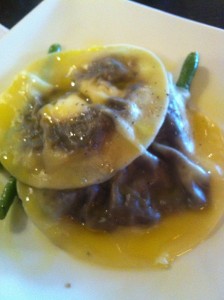 It was a lovely sunny day on Wednesday and I happened to have my car with me, so I thought I'd make the most of it. There was parking on Oriental Parade, and I figured it would be fair to give Beach Babylon another go since it's been three years since this dreadful experience.
Well. The service was pretty rough, still – I had to ask for the Wellington on a Plate menu, my glass of wine was plonked down without a word by the waitstaff, I didn't get a serviette at all, and there was no chance to ask for one because they didn't check up on me while I was eating. The food itself was decent, but not exemplary – that might have been my fault though for choosing the vegetarian options in anticipation of much more meat to come at other places.
Starter: Wild Parkvale mushroom and Zany Zeus ricotta ravioli with asparagus and Olivo porcini olive oil
Main: Fresh chilli and chive corncakes with Zany Zeus citrus creme fraiche, watercress, avocado and cherry tomatoes
The ravioli filling was delicious, as was the oil drizzle over it, but I was pretty disappointed to get beans instead of asparagus with it. Meanwhile the slippery light texture of the ravioli makes me suspect that they used pre-bought wonton wrappers instead of making their own pasta. (Sidenote: I've been told that the famous paua ravioli at Logan Brown also does this AND their paua is frozen. Nice work if you can get it, at the price they charge!). The corn cakes were decent enough too, you'd be happy enough with them on a breakfast menu (but probably want some bacon with them).
It's great that Beach Babylon is able to offer vegetarian options, but it's a shame their service is still so lacking in finesse. 
The Dine menu at Foxglove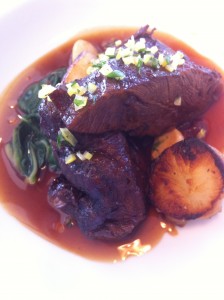 Ahh, this is the business. Robyn's loved the WOAP menu at Foxglove in the past, as have I, and it's nice and close to my new office (oh earthquakes), so I assembled a panel of coworkers and made a booking.
Main: PrimeStar beef cheek, pickled onion shells, sunchoke puree, Swiss chard and bone marrow broken veal jus (GF)

Dessert: Chocolate cannelloni with iced coffee sorbet, Zany Zeus yoghurt and caramel
Service at Foxglove is stiffly formal, but also very slow. Even though we were there at lunch time, and we said we were ordering the Dine menu (which everyone at the table has to have if you want it, unlike anywhere else you might go), they left us alone for a good 10 minutes or so, which seems a bit ridiculous when you have a total of two options to choose from. Food took a long time to come out too, even though when we started there were very few people in the restaurant. This is not a place you can get in and out of in under an hour. That said, what we got was fricking delicious.
Bread rolls came out with both olive oil and whipped butter sprinkled with salt. The butter tasted really buttermilk-tangy, which was nice and a bit different – i had to eat some off the knife just to be sure it wasn't the sour dough roll. The beef cheek was a quite generous portion, and it fell apart when it sighted the fork, which is always good. The Jerusalem artichokes (I don't know why they call them sunchokes, that seems more of an American thing which I haven't seen on other menus) were served roasted, not in a puree, but that was fine, and ooooh the sauce, it was delicious. I was very glad of the gremolata on top of the meat though to freshen up the palate, as it was all exceedingly rich – and delicious.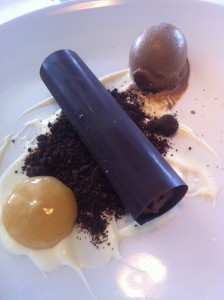 While all four of us had ordered the beef, we split over dessert. When I tweeted about it, people thought I had meant to say cannoli, but  no no, my friend. It wasn't pasta, but it did look more like it than pastry. This was also very rich dessert, though the very very coffee sorbet (it was gritty, that's how strongly coffeed it was) sorbet counteracted all the chocolate a bit. The poached meringues looked great too, floating in giant glasses. In fact, the food was so good I contemplated going back the next day to try the pork and also the meringue, but I decided that I really didn't have the time – given how slow they were when the restaurant was empty, I couldn't imagine how long it would take when it was packed on a sunny Friday. I do recommend you go though, if your schedule will allow it. When the quality of food is this good, and considering Foxglove's normal prices, you're getting excellent value for money.
The Dine menu at Hop Garden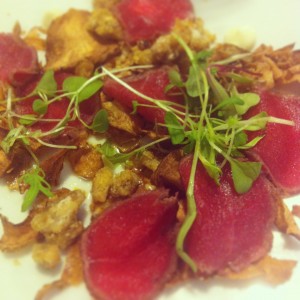 After Friday's shakes and quakes, I wasn't keen to venture too far from home on Saturday, so lunch with my sisters in my neighbourhood sounded perfect, and had handily been booked into my spreadsheet in advance as if we knew what was going to happen.
Starter: Wild venison carpaccio with Jerusalem artichoke chips, Pinnacle Grove walnuts and orange dressing

Main: Slow-braised Hereford shortrib with truffled potato, roasted shallots, and pink peppercorn jus
We made it a very easy order for the waitress – four venisons, four beefs, four Pinot Noirs. In exchange, the starter was the prettiest dish I've eaten for quite a while. I was surprised that the venison was still frosty – I mean, obviously they need to freeze it to be able to slice it that thinly, but I would have thought serving it at room temperature would have given it more flavour. Also, it is a little awkward eating venison when your brother-in-law-ish is nicknamed Bambi. Still, the crunch of the Jerusalem artichoke chips and candied walnuts was more than enough to keep me happy. With the orange dressing, this was almost like eating a bowl of the best cereal in the world, which means it made for a great breakfast. We all cleaned our plates with our fingers afterwards, partly because the sauce was so delicious, and partly because o obviously we were poorly brought up.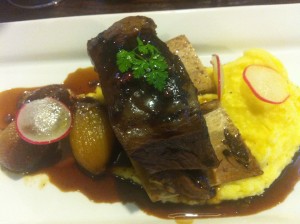 Then it was time for the short ribs. Poor Bambi got dreadfully short-changed, with his beef being almost entirely all fat. The waitress didn't comment on it when she took away his plate with the mound of fat pretty much untouched. Not cool. As for mine, well the mash was delicious, as was the sauce, but the beef itself could have done with about another hour of slow cooking, as it was tough and still clinging to the bones. I liked the pink peppercorns in the sauce, and the roast onions, but was unsure what the radishes were supposed to add.
So, all together, a bit of a mixed bag. The Hop Garden's in my 'hood, so I will be back at some stage, but they could do better.
The Dine menu at Coco at the Roxy
Today I thought I'd go eat at La Boca Loca, because Tuesday night was just not enough for me, but when we got there we found they were closed for their family lunch event. Not to worry, because Coco was also on my bucket list.
Now, to be fair, I know I have complained about restaurants who put their regular food items on their Wellington on a Plate menus, but Coco's Peninsular Platter is designed to be a showcase of local food anyway. And while their WOAP burger sounds a lot like their regular burger, it's three dollars CHEAPER, so they really are using the event as a way to offer exceptional value to their customers. Are your ears burning, Finc?
Starter: The Peninsula Platter Sampler: a selection from a daily changing showcase of Miramar Peninsula suppliers and producers

Main: The CoCo Classic Burger – Beef patty with caramelised onion, Harringtons bacon, Kingsmeade Sunset blue and homemade pickles in a Pandora bun, with hand-cut fries and mayo
So out came a triffidy frame for our platter, followed shortly by plates of chicken liver parfait (unbelievably rich and filling), coconut & lime ceviche (really really limey and great), mushroom & parmesan arancini (nice but not mind-blowing) chilli caramel pork belly (greasy but great) and deep-fried feta (yum!).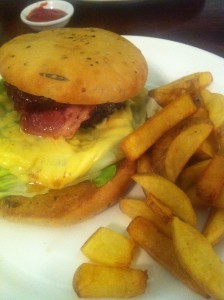 With the richness of the platter, a wise/less greedy person might cleverly opt to have the dessert option instead of the burger, but not us. My companion was a bit miffed at the vast amount of beetroot relish that emerged, especially as it wasn't on the menu, and I heard another table remarking on it as well, but still, it was a mighty tasty burger. The patty was perfect, and the Harrington's Bacon and Kingsmeade Sunset Blue sauce a gorgeous match (even if the sauce wasn't quite as vivid a colour as I was expecting, based on the cheese).
The bun too was tasty, and the fries nice, though we had to call for salt for them. This was a good burger, totally worth the $18.50 you'd pay if you ordered it by itself, and definitely value for money for $35 including the platter and the glass of wine. Just don't eat both before a movie or you'll find yourself needing to have a little snooze during it.
Phew, that's last week. Coming up this week there will be Ti Kouka, oh yes there will, and Public's burger, and lunch at Shed 5  (someone else's pick) and whatever else I can fit in between after shocks. What have you been eating?
---