Another birthday, black pudding hotdogs, and 2:1 steak
The birthday first.  Since I seem to be on a birthday roll lately.
Ti Kouka celebrated their 3rd birthday on Friday just gone (well done guys). Even though I couldn't make lunch with free bubbles, I did manage to grab delicious carrot cake for afternoon tea (purely for celebratory purposes you understand), and confirm their new venture should be opening this week – The Leeds Street Bakery and Red Rabbit Roastery in the Hannahs Building beside Goldings Free Dive Bar.  This venture is more about collecting on the run, but I don't doubt for a minute the continued quality product we've come to know and love TK for (and I suspect you just might be able to have tasty treats with your beer next time you're at Goldings….).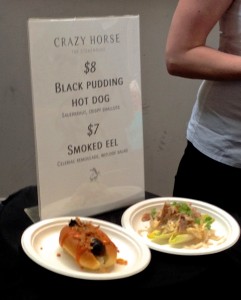 And then in one of those quirk's of fate, who turned up as the restaurant of the week at the City Market yesterday – none other than Crazy Horse the Steakhouse.  Only the same place we'd just booked for the first time in ages in relation to a who-does-good-steak-around-town conversation (and yes you do need to book for the Monday 2:1 steak deal, its packed as a packed thing!).
So, black pudding hotdog for breakfast as a warm up to the steak event?  Why not indeed. With crispy shallots and sauerkraut.  And yep, as tasty as it was interesting.
And the steak.  In the 2:1 deal you can choose different steaks and the cheapest will be credited, so if you've never had wagyu and always had a hankering to try one, this is the place to do it.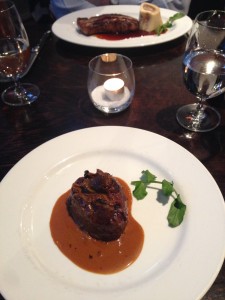 Beware the sides are all extras and with drinks and so on, one can still spend more than imagined but getting one of those steaks free is a pretty tasty compensation.  We actually had fillet and sirloin and both were very pleasant and cooked exactly as promised (but with a bit of gristle through the sirloin I have to say) and all sides, service, ambience and presentation (marrow in a bone anyone?) very good.  And some interesting sides like asparagus with poached egg, coleslaw with peanuts, large chunky wedgy potato skins, maple glazed yams with toasted pecans (in season), gnocchi Parisienne, brussel sprouts with confit chestnuts and lardons….
$89 for a couple of good steaks, three sides and two drinks left us well sated and pretty satisfied.
So now I have Portlander and CHS in my mind for good city steaks, but I suspect there are others…?
And white we're on the 2:1 front, a couple of other fun places that spring to mind if cooking just isn't doing it for you:
So there's half the week covered, happy to hear of others….