Holey pancake!
Who'd've thought a few holes could be so useful.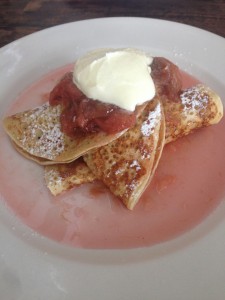 Finc are doing Yemenese pancakes on their breakfast and brunch menu at the moment (with poached winter fruit warmed in a ginger syrup with thick yoghurt) – a thin spongy dinner-plate-sized pancake full of holes and great for catching and mopping up sauces and syrups.
And then there's the new(ish) Ethiopian restaurant on Tory Street opposite Moore Wilson, The Meeting Tree, with Injera bread – also large, thin and spongy and full of holes for mopping up sauces and curries.
The Yemenese ones sometimes include fine cornmeal or semolina flour, whereas the Ethiopian ones are traditionally made from teff flour (high in iron) and are sourdough-risen over a couple of days, hence the slightly sour notes wafting through The Meeting Tree overlaying the aroma of spices.
The Meeting Tree dishes all have fabulously interesting names like doro wot and zilzil tibs (essentially marinated meats or lentils / split peas in soups or curries or dry sautéed, with accompanying rice or injera bread) and there are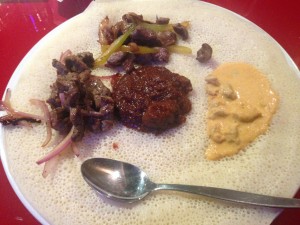 nearly as many vegan dishes as meat.
Whereas the Finc dishes have interesting asian twists courtesy of the Yee's (and maybe the best date scones in town…?)
But essentially, aren't we lucky to have all sorts of eating experiences in Wellington. Simple to fine, many ethnicities, small to large, quiet to noisy etc.  And a good few that won't break your bank.
So go grab a platter at The Meeting Tree (meat or vegan to sample a little of many things) or go support some other unique, maybe struggling, maybe under-marketed, business who's doing their level best to contribute to our rich fabric.
(The Meeting Tree have just received their liquor licence yesterday and will be serving alcohol from this Friday 3rd July, so you'll now also be able to avoid the smart arse comments from colleagues about going out for bread and water!)