Something wonderful at The Dowse
Emma from Emma Makes kindly visited and revisited  – Wunderrūma: New Zealand Jewellery  exhibition at The Dowse  for us.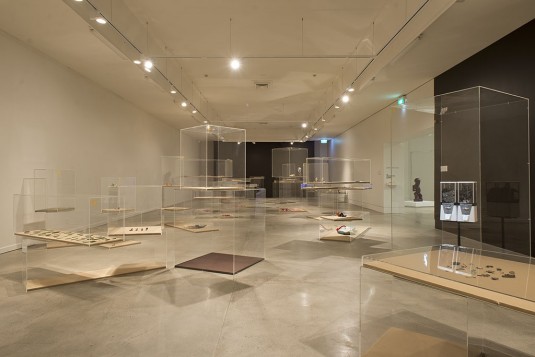 Each time I return to Wunderrūma: New Zealand Jewellery I find something new I want to own. It began at the opening with Emily Valentine's Kingfisher Brooch (2013).
"Is that a bird?" said the friend I was with.
Yes it is – literally a whole bird mounted flat out as if ready to take off, its bright blue under-feathers poking through sensible brown and looking at once like a museum specimen and something I'd be keen to break out of its case.
Next on my list of covetable objects is Randell Cottage Jewellery – a quiet grouping of jewellery and trinkets found, 'in a small hole behind the chimney' when Thorndon's Randell Cottage was renovated in the 1990s. They sit adjacent the case holding Kingfisher Brooch – I'd hardly taken a step into the show before finding two pieces that delighted me.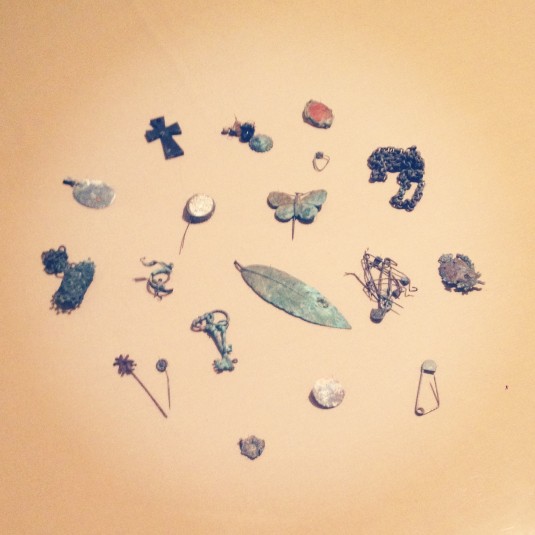 In essence, jewellery is art to have and to hold – pieces to covet, to wear and to want. The thing with Wunderrūma, the thing which has made me sound as demanding and materialistic as Veruca Salt, is the set up – this is a show that is designed to encourage discovery.
To say The Dowse has been ambitious in their exhibition design is an understatement. It was all hands on deck in the lead-up as the team assembled, glued and stapled a series of rather special Perspex cases. They sit three to a grouping and are stacked, which means visitors look – they really look – at the art. At the opening and at a later event I watched groups of all ages duck and weave, giggle, point and delight as they wove in and around, up and down the Perspex maze.
"Huh," I thought towards the back of the room, "that case is empty;" only to discover the smallest of brooches hidden in the corner.
At one point I had to stop myself lying on the floor to get a better look at a set of metal leaves (Roy Mason's Pennies from Heaven (2012)) just to prove they weren't in fact 'real' leaves. They sit on the edge of the show, halfway in, but are also neatly reflected by a similar, and much more oxidised, leaf that forms part of the aforementioned Randell Cottage Jewellery collection.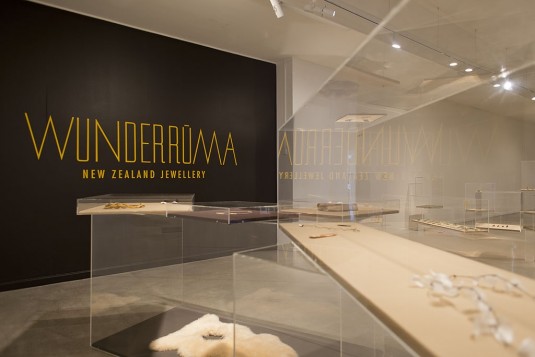 It's these kinds of 'accidental' themes and juxtapositions that fill the show and provide rewards on subsequent viewing.
Curators Warwick Freeman and Karl Fritsch say in their catalogue of the show ($25.00 from MINE The Dowse shop) that they chose the show based on pieces they like. Wunderrūma has clearly been developed by people who've held it close for a long time – taken time to think through decisions and make choices that are instinctive and ingrained so that themes of materials, styles, shapes, time and meaning are created almost as if by osmosis.
Last time I caught up with director Courtney Johnston she told me, "The complaints about the exhibition design have died down."
There's no doubt the curators and The Dowse are brave in their choice to show Wunderrūma in this stacked case configuration. They've gone one step further and removed the labels too, moving details about artists and materials to a room booklet instead.
The Dowse has created a show which, through design, encourages visitors to look and discover – much better than any text wall panels, flat screen TVs or other types of museum interpretation could achieve.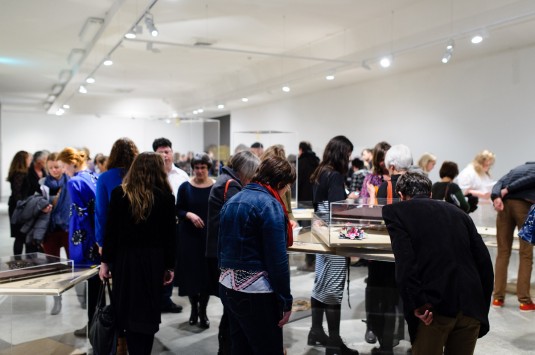 Wunderrūma is free and on at The Dowse (45 Laings Road, Lower Hutt) until 28 Sep 2014. Find out more at http://dowse.org.nz
About Emma Makes
Emma Makes is a crafter with a day job who lives in Wairarapa. She likes good books, smart people, making things and silly jokes. She sells online at www.emmamakes.com and you can talk to her on Twitter @emmamakes