New nosh
There's a few new eating places of prominence opened or opening shortly for your (mostly) carnivorous pleasure.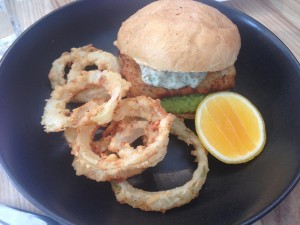 Poneke have opened beneath the new Clyde Quay apartments – a marriage between Mojo (usual café ambience and cabinet fare) and Martin Bosley (meals). I'm not completely sold on the price points (especially for the small plates), but there's no disputing the ingredients are top class, many dishes have interesting twists (12 hour beef cheek mince on toast, prawn bap with sprouted peas and preserved mayonnaise, roasted grapes and feta on grilled sourdough), they offer efficient service, there are outside tables for when the weather gods cooperate, and to be fair they are operating in a fairly expensive location. 7 days from early (7amish) until mid-evening.  Weekends might shift to a later start with a more specialized brunch menu (pictured the fish finger sandwich with buttermilk onion rings, disguised as a burger).
Bethel Woods on The Terrace (where the Wine Loft used to be) are also in full swing – from the folks who have the Whitby Co-op, Miramar Gasworks et al (Bethel Woods being named after the location of the Woodstock festival). With a focus on smoked meats, beers from simple mainstream to top end crafty numbers, laid back music of the era and the roof top garden for the fine summer coming (where the imported smokers are set up as a 'BBQ pit' I believe), they'll probably do all right. 7 days from 10am. Sample menu here.
The Bresolin – The Crazy Horse Steakhouse had its finale on the last Sunday in September and the new Bresolin development is in full swing. No opening date yet,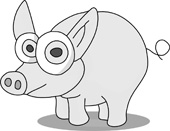 but the boys were in the City Market kitchen this weekend promoting their new venture. Again, a focus on meat with a whole carnivore planned for roasting over the courtyard fire pit every Sunday, and areas for both casual food and beers or more traditional restaurant service. In the old (from about 8 years ago) Bar Bodega site at 278 Willis Street, just before Karo Drive. Looks like a pretty major redevelopment by the look of the FB pics.
The new Whitehouse venture (I heard someone refer to it as Whitebait recently…) is due to open at the bottom of Clyde Quay also in the near future. Again, the existing Whitehouse will close and the new venture will be a bit more 'accessible' (a'la'Charley Noble, Grill Meats Beer, etc). In time for Xmas parties.