The Hutt gets a new market
I know we make fun of the Hutt (except for the 'ista members who actually live there and really quite like it, of course).  We tease it and call it names, similar to how we might treat a sibling, but just like our pain in the ass older brother, when they do cool things we get to be proud of what they've done and immediately get cool by association status, because we're all family, really. Except for Churton Park. No one is related to Churton Park.
And this time is no different.  If you see me in a reasonably dodgy industrial estate part of Lower Hutt next Saturday October 11, you're not to panic and think I'm lost (although I do inevitably get lost pretty much every single time I go there).  I'll be there for the opening of The Village Market.
Wellington is known for its very cool markets selling lots of food and produce, but when it comes to a true artisan market that covers this, crafts and preloved goods – well, there's a bit of a gap.  That gap has been filled by Laurie and Jo Sanders (father and daughter) who recently bought a plot of land next to the old Griffins factory and have been quietly beavering away building a permanent market operating throughout the weekend on Friday nights, Saturdays and Sundays.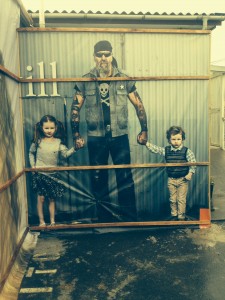 I've been told some of the stalls have been built from recycled pallets and made to look like mini shops.  They've used recycled billboard skins as weather protection, so you can still go to the market in awful weather and know that the sellers won't be having a terrible time with all their stuff getting wet.
There's a building being renovated right now with space for artists to sell their work, where challenging weather would cause serious damage to their wares.  If you've got kids, you'll be pleased to know that at the end of that building, Laurie and Jo are also creating a zone for parents to go to feed their babies (breast or bottle) and with a kitchen and real bathrooms nearby, preparing bottles and changing babies is easy. (Wait, do parents actually change their babies? Like swap them with another baby they think is prettier? I guess this is why I am not a parent)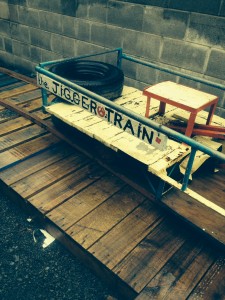 The idea is that visitors will hopefully come for a few hours rather than just a grocery grab as there's plenty of live entertainment, a jigger train (I googled it, and it's a hand-operated cart, much beloved of slapstick old timey flicks) and bikes for kids to play on and great sustenance available.  They want it to be an evolving market, so there'll be something new to see every time you visit.
The Village Market opening weekend is on Saturday 11th October and Sunday 12th October from 9am-3pm, then every Friday night from 3pm-11pm and Saturdays and Sundays from 9am-3pm.  Visit thevillagemarket.co.nz for more information.