Win a VIP double pass to the Wellington Wine and Food Festival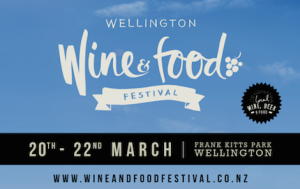 Wellington is a city overflowing with good restaurants and fine drops to drink. It seems ridiculous that we haven't had our own day-of-food-and-wine-and-oh-okay-fine-beer yet. Luckily, that's about to change with the cunningly named Wellington Food and Wine Festival.
The Festival brings together the best of local food, wine, beverages and restaurants, outdoors on the waterfront in the sun, accompanied by great music, fun and friends.
We're excited by the list of vendors including our beloved La Boca Loca and subject of a recent post The Chippery. Amongst the others are various representatives of the Trinity Group (El Horno, St John's, the Old Bailey) and the Nourish Group (Shed 5, Pravda and the Crab Shack). I guess it may be easier for large businesses to take a gamble on something new, and for that, we must salute them. There's also a couple of contestants from My Kitchen Rules fronting up, including Heather and Aaron (yay!) and Dai and Dal (boo (I'm sure they're lovely, but they weren't who I was cheering for when I watched)).
Beer drinkers are catered for with Black Dog and Tuatara, while happily the wine selection included pretty much my favourite Martinborough vineyard Margrain (no word yet on whether or not they'll have their famous tasting notes which once described a rose as being as soft as cuddling a panda's belly).
There are four seperate sessions stretching from the Friday evening to the Sunday afternoon, so pick one that best matches your schedule. Earlybird tickets are on sale until March 15 for $29.95, so get in quick.
Or even better, WIN a pair of VIP tickets from us. Just leave us a comment below telling us what kind of festival you'd like Wellington to have next. We'll draw one person at random and notify you at lunchtime on the 15th so if you don't win, you'll still have time to get your tickets at earlybird price.  Hurrah!