What to do in Wellington with a motorhome
This post is sponsored by Wilderness Motorhomes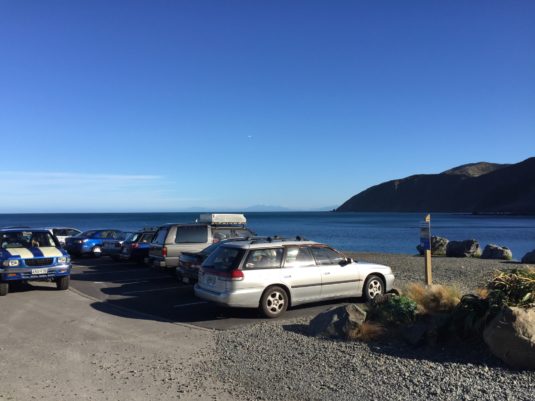 We love telling people what to do. Especially telling people what to do in Wellington. That's why we exist. So when we were offered this sponsored post we were happy to take up the challenge of what to do in Wellington if you're an out-of-towner visiting in a motorhome. Most of our advice in the play and eat sections will still be useful to any out-of-towners, of course.
Sleep
First of all, you're going to want somewhere to stay, and while there is no longer a downtown motorhome park on the waterfront, the Wellington City Council has the downlow on legal camp grounds. It's important to note that camping is not permitted in Wellington's reserves, including the Town Belt and Reserves around the Coast.
There are a number of freedom camping spots around Wellington like Te Kopahau Reserve carpark (not the reserve itself), but please make sure you pick up after yourself, because reading negative articles about freedom campers is really boring.
If, like us, you don't ever want to be too far from the good coffee, as long as you're self contained, there's a powered parking site just a block or two from Cuba Street. Chances are that your motorhome might be bigger than some inner city apartments anyway!

Play
So what to do while you're in Wellington? We've got a couple of ideas for you.
Firstly, we sent our intrepid Kris out in a van to get a feel for the roads. She reports back
"I went for a drive along Wellington's slim twisty roads on Sunday in the wind and rain. I think any campervans bigger than van size would be able to drive the roads (if the bus can they should be able to) but honestly they should just park up somewhere and take the free shuttle bus out to Zealandia and the Botanic Gardens (Zealandia tell people in campervans to contact them if their vehicle is over 3m). Some of those roads are pretty steep and windy!"
We do recommend a drive up to see the view from the top of Mount Victoria if you're confident in your driving, but suggest going via Newtown/Alexandra Road instead of the more direct route. Plus that way you could stop in at the Wellington SPCA too!
Otari-Wilton, Makara Peak Mountain Bike Park, and Wright's Hill Fortress, all have carparks suitable for van-sizes but the turning would be a bit tight for anything bigger. There is enough space to park bigger vehicles further away from the carparks and that usually happens before the roads narrow and/or get twisty. Bonus for driving to Otari-Wilton is Ian Galloway park which includes a skate ramp and an off-lead dog area.
And here are some other ideas…
City Creatures
Make sure you take a stroll around our waterfront (and do look up from your devices, even if there is free wi-fi available). There's a sculpture tour to be done, and many things to be photographed! We particularly recommend Sundays, so you can also go to the City Markets at Waitangi Park, where you can try all kinds of delicious local produce. You will be able to park in the Te Papa carpark (and while you're there, why not check our national museum as well), but it will cost you.
Coffee
Wellington is well known for its coffee culture. Most cafés in the inner city, and many in the suburbs, know how to pour good espresso, latte, or that Australasian speciality, the flat white. Local chains and roasteries whose outposts are generally reliable include Peoples (sic), Supreme, Flight and Mojo.
There are also a several places that stretch the boundaries a little and may be worth a special visit: among these are Customs Brew Bar on Ghuznee Street, Memphis Belle on Dixon, and Lamason, Wellington's first siphon bar; all three of which make fine espresso as well as single origin beans brewed in a number of interesting ways.
Inner city parking isn't easy at the best of times, so once you have your motorhome parked in one place, we recommend getting around on foot, bus or taxi.
Eva Street / Leeds Street
This little laneway gets a special mention because it's packed with Wellington foodie destinations — Six Barrel Soda Co, Fix & Fogg Peanut Butter Company, Leeds Street Bakery (try the salted chocolate chip cookies) and the Wellington Chocolate Factory, as well as a pizza joint and two bars. Oh, and a strip club on the corner.
While you're there, you might want to pop into one of our favourite bars, Hanging Ditch. This bar is pretty new but it's rapidly become one of our favourites. It offers exquisite cocktails, decent wine list and a beer selection that's all craft but limited out of deference to Golding's next door. You'll be entertained by all the bottles hanging from the ceiling and there's plenty of space to sit and chat.
Markets
Need to buy presents? The Frank Kitts Underground Craft Market on Saturdays is a good bet. If you're looking to fill your facehole, the Harbourside Market right next to each other on Sundays in Waitangi Park is the place to be. Friday nights has the night market in Leftbank off Cuba Street, and Saturday night has a food market in Lower Cuba Street.
Movie fans
You'll want to head out to Miramar (but if you're driving your motorhome, be careful during heavy winds cos it gets real gusty going past the airport). There you'll find the Weta Cave, as well as the Roxy Cinema, which is co-owned by Weta guy Sir Richard Taylor. The Roxy has recently reopened, restored to its former glory with bonus amazing murals by Greg Broadmore — it has to be seen to be believed. While you're there, get great Mexican food at La Boca Loca — we love them not just because they're delicious but also because they pay their staff a Living Wage.
Shopping
You can walk around Wellington so easily that no doubt you'll be browsing freely, but here are the Wellingtonista's nominees for the best shops in town:
Wanda Harland (Petone): Owned by one of the Wellingtonistas, we'd still pimp this quirky design/gift shop even if we didn't get drunk with its owner.
Holland Road Yarn Company (Willis Street): You might not realise it but Webstock Special Agent Tash 2.0 is not just a girl with an earpiece – she also makes fantastic yarn and runs her own shop. Holland Road is bursting with knitting supplies and accessories, as well as books and other associated goodness.
Unity Books (57 Willis St): It's an independent bookshop that is a pleasure to browse, with knowledgeable staff who are more than happy to guide you in the direction of a book you'll love. They frequently host launches and other events too.
Slow Boat Records (183 Cuba St): In this modern digital age, where the local record shop is a dying breed, Slow Boat is still around and still thriving with their bins full of lovely lovely vinyl. Whether you're after something specific or just wanting to browse for inspiration, Slow Boat is a jewel of Cuba Street.
Moore Wilson's Fresh: Recently redeveloped to open it up to the "gentrified" College Street, Moore Wilson will overpower you with its glorious smell when you walk past — a mixture of fresh produce, cut flowers, fresh baked bread and the anticipation of all the glorious cheese and chocolate inside. Although we're secretly a little sad you no longer need a club card to shop there, it's a great place to load up on food, or to just pop into for a few things.
Wi-fi
Free wi-fi is available outside around the waterfront thanks to Trade Me, and in the CBD thanks to @cbdfree. Many cafes and bars — especially the craft beer bars — also offer free wi-fi.

Eat
If you're wanting to save money by catering yourself, hit up the supermarkets. We've seen plenty of campervans parked at Chaffers New World at 227 Wakefield Street, so we know they fit into that car park, but Thorndon New World has a height limit. Trying to park near New World Metro at 68 Willis Street or Countdown Metro on Cable Car Lane off Lambton Quay is not recommended but they are on bus routes.
If you want to buy wine or beer, you'll be able to find it at most dairies in the Cuba Street area and the New Worlds. There is also a very nice wine shop called Wine Seeker on Victoria Street. If spirits are your thing, there's Glengarry on Courtenay Place, Liquor King at 29 Kent Terrace, or the studenty Liquorland at 233 Victoria Street. Please remember that there is a liquor ban in all of central Wellington, which means you can't drink on the street or along the waterfront. Unless you're very very discreet (not recommended).
Beer
Wellington is overflowing with craft brewers right now. Keep an eye out for Funk Estate, Parrot Dog, Garage Project (makers of the Webstock IPA and others, which you'll find served up in craft beer bars like Hashigozake, Goldings Free Dive, the Malthouse and Tuatara's Third Eye.
Burgers
Burgers are So Hot Right Now, unlike that phrase. Grill Meats Beer or Burger Liquor have both got what you need and stay in one place. Otherwise, try and track down Nanny's Food Truck for a jerk take. Please note: we will END you if you refer to burgers as "dude food".
Food trucks
Food trucks are everywhere in Wellington now, particularly along the waterfront, at Moore Wilson's, and scattered around Courtenay Place. Some even say there are too many! Your best bets, though, are at the markets mentioned in the section above, where you'll find many of the most popular food trucks amongst a huge range of other stalls.
Vegetarians, Vegans, Gluten-Free and Others who are Dietarily Challenged
Almost every restaurant & cafe in Wellington will offer you a vegetarian option, but finding vegan is harder to do. Some suggestions:
Deluxe Cafe (10 Kent Terrace): This tiny cafe has a big range of food, offering vegetarian, vegan and gluten-free salads, sandwiches, pizza, filos and baked goodness. Everything is clearly labeled too, so you'll know what you're getting into.
Midnight Espresso (178 Cuba Street): Open until 3amish, this cafe is the perfect destination not just for vegans but also for anyone wanting coffee, cake, hot food or the perfect place to watch people in one of Wellington's most interesting streets.
Aunty Mena's Vegetarian Cafe (167 Cuba Street): It may look rundown, but you don't go to Aunty Mena's for the decor, luckily, you go for a wide range of Asiany food with fake meats.
Your turn now. What else should out-of-towners check out?
This post was sponsored by Wilderness Motorhomes