Win a double pass to the 2017 Food Show in Wellington!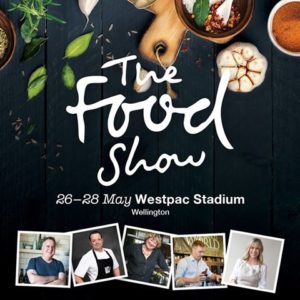 We've written before about the Food Show and how it's basically Rex Manning Day for people who like to try lots of food and taste a lot of wine.
If you're looking for ways to fire up your creative juices in the kitchen, look no further. The Food Show Wellington is on at Westpac Stadium from 26 – 28 May, and it's bringing everything you need to turn yourself from uninspired and unenthused to culinary genius.

Start off with a live cooking demonstration from one of New Zealand's top celebrity cooks, where you'll pick up a host of tips and tricks for creating beautiful food at home. This year, the internationally renowned Annabel Langbein will be at the Wellington event for the first time, presenting recipes from her new book Essential Annabel Langbein.

Next you can explore the show's vast array of exhibitors, showcasing everything you'll need to take what you've learned in the cooking theatre and make it a reality. There will be beautiful cheeses, grass fed Angus beef, handmade dumplings and black garlic as well as pretzel crisps, deluxe hot chocolate, fudge, ice cream – and everything in between. Plus, you can find great deals on kitchenware to help you bring it all together!
I remember in previous years I have been a massive douchecanoe and said "don't take your prams to the show gosh" but cutting out kids would also mean marginalising parents (predominantly mothers), so I apologise. In fact, I think next weekend is also actually Mother's Day, and) (okay so I got my weekends mixed up but… if the maternal figure in your life likes to eat a variety of things and taste a lot of wine, maybe it would be an ideal outing for you together. Our advice from 2006 (oh my stars we're old) about wearing comfortable shoes and trying everything still stands.
But we said we had a giveaway, so let's do that! Leave us a comment below about the one thing you're most looking forward to sampling, and go into the draw to win a double pass valid for any of the three days. Get your entry in before 5pm Wednesday May 17, and we'll draw it that night so you still have time to take Friday 26th off work for a less crowded experience, or of course you could go on Saturday or Sunday as well.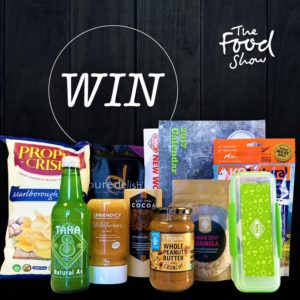 EDIT: We're now giving away a hamper as well!
We have a Food Show prize pack to give away worth $115, including a double pass to attend the show and a goodie bag filled with delicious treats, including: Pure Delish Passionfruit Crunch Ancient Grain-Ola, Taha Natural As Sparkling Tonic, J.Friend and Co Wildflower Squeezy Bottle, Chantal Organics Ginger Zest Grainola,Chantal Organics Whole Peanut Butter, New World Sistema Snaplock Container, New World 2017 Calendar, Proper Crisps, West Coast Cocoa and even something for the dog, K9 Natural Beef Feast Toppers.