Review: You do you babes – Donna Brookbanks
Guest review by Emma Maguire
We are welcomed into the BATS Studio by a woman dressed in a black cloak. Illuminated by the light of flickering (electric) candles, we're baptised by water poured from a menstrual cup, and we recite the single person's prayer.
All the single ladies… now put your hands up!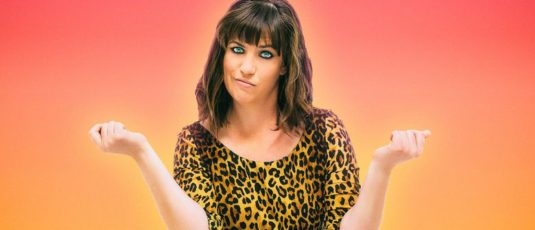 Donna Brookbanks' show You Do You Babes is an embracing of singlehood, of wine, and of many, many cats. It is a very likeable show, where strange pop culture vignettes break up the patter of more traditional stand-up.
Throughout the show, we're treated to an interesting tour of Donna's house in the style of MTV's Cribs – in which the horrors of living in a tiny home with a stubborn cat are fully explored.
We even get to play the part of some people from her past as we mock her in a Comedy Central-esque Roast. This author, in particular, was pulled from the audience to read the words of Donna's 'eighty-year old ballet teacher', who really didn't have nice to say about her.   
There's also a TED talk (which really just boils down to talking about cats), many moments of pantslessness, and a good ten minutes at the end of the show where proceedings are conducted with grated cheese covering the stage. It is certainly an experience of a piece, that's for sure.  
While we do not truly get to the root cause of all singlehood, we are encouraged to stop trying on the pants that might not quite fit us in life, and wear the dresses we feel good in – amongst the grated cheese, the awkwardness, and all the other shit that's in between.
You do you, babes, indeed.
You Do You Babes is running at BATS Theatre in Wellington from 8.30pm every night until the 12th of May. Tickets are available from the BATS website. Get amongst!