Pig & Pinot – we're as happy as pigs in mud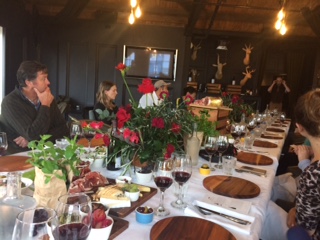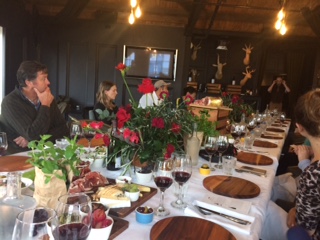 As you're no doubt aware from watching Shortland Street, it's duck-hunting season. Usually this means that Cloudy Bay would be doing duck & pinot noir pairings around the country, but this year they've decided to do something a little different and possibly a little more accessible – pinot noir & prosciutto – "bringing you the perfect pairing to satisfy the instinctive desire for warming red wine balanced with the richness of dry-cured Prosciutto." For you, dear readers, last week we bit the bullet and went along to their media tasting.
Launching for the entire month of May, the exciting new offering will give New Zealanders the chance to enjoy bespoke pairings of signature prosciutto dishes designed to complement the Cloudy Bay Pinot 2015 or the Te Wahi Central Otago Pinot Noir 2015, available at a set price from participating restaurants in Wellington and nationwide.

To further bring Pinot and Prosciutto to life, Cloudy Bay has teamed up with Kate Marinkovich and Foxglove in Wellington to host a ticketed Pinot & Prosciutto Masterclass highlighting elements of prosciutto paired with the Cloudy Bay Pinot Noir range on Wednesday May 16th from 5:30 – 7pm.
We hadn't been to Foxglove since that Wellington on a Plate dinner, so I'd forgotten just what a gorgeous space it is, especially when you're greeted by a table groaning under the weight of six different kinds of meat, fresh figs from a secret tree in Mount Vic, cheeses, greens, breads – basically my idea of heaven. It was a little chilly on a rainy day though, so you might want to bring a cardie.
But we were to stare at the spread for a while longer, as the wine maker talked us through Cloudy Bay and the wines we had before us, and Exec Chef Eric Lee from Foxglove talked us through some facts about prosciutto (Heather over at Foodie Gems was sitting closer and managed to retain some info – check out her post). Then 'platter artisan' Kate Marinkovich from Tomboy stepped up to talk us through how she'd assemble a platter, and we were encouraged to start making our own as she talked. Hurray! This is what I ended up making, though it didn't stay that pretty for long as I devoured it hungrily.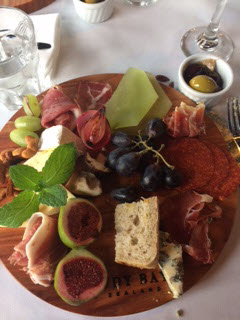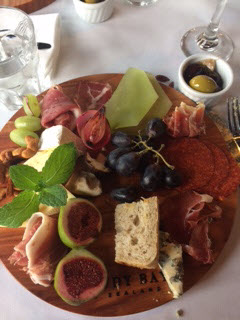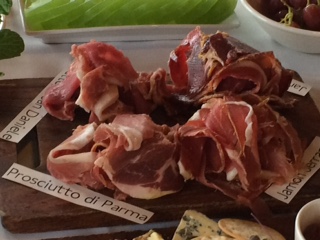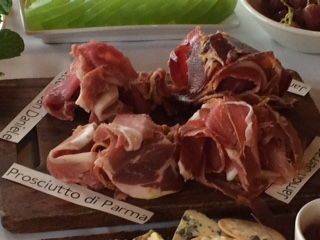 There were so very many different kinds of preserved meats to try, and very generous amounts of both of the Pinots, so conversation got quieter as mouths got fuller. I think the Te Wahi Central Otago Pinot Noir was my favourite over the Malborough, because it tasted more feral, and that went very well with the salt of the pig. Given the wine retails for $99 a bottle, it was really nice to be able to try it in a substantial amount, because I'm unlikely to be able to buy it ever.
If you want to indulge just like us, you can! Because there's a master class open to the public for $85 on May 16, where you'll get the info, the wine, the meat and also a beautiful wooden board to take home with you afterwards. The table will look absolutely beautiful and hopefully they will be as generous with the servings as they were with us on this occasion. Get your tickets here.
As well as the master class, you can get special dishes at Foxglove or The Grand Mercure that are served with the wine if you want to try out the combo yourself.