Introducing the House of Boom
When I opened up another branch of Wanda Harland, Joanna interviewed me all about it, so I figured with House of Boom about to launch, it was time for me to return the favour.
Okay what's going on? You're launching your own clothing label?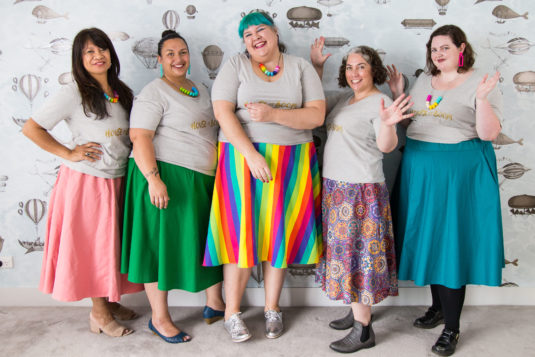 Yes! I got fed up with the lack of ethically-made options for fat people, and after years of sitting around saying "someone should do something about it", well, I've done something about it. House of Boom clothes come in sizes 16-30, are made right here in Wellington (in Berhampore specifically) and everyone involved in their making is on good wages (apart from me) . The clothes are all cotton – and everything has pockets.
I probably need to put in a qualifier here – the garments themselves are ethically made. The fabrics though, that's another story. I bought them at various fabric suppliers around Wellington, so I don't know their origins. I hope as the label grows I can get further up the supply chain and get ethical fabrics too.
What does House of Boom look like?
Bright colours! First and foremost, I've done clothes that I want to wear. There's just four items – a t-shirt, a skirt and two dresses – but they all come in a range of textures and colours and patterns. The first season is called In The Beginning There Was Boom – but there's no particular cohesion to it. I'm throwing things at the wall and seeing what sticks. It's not high fashion – it's practical basics in natural fibres. And I get to name clothes after women that inspire me. Yes I did name my skirt after myself, thanks Snoop!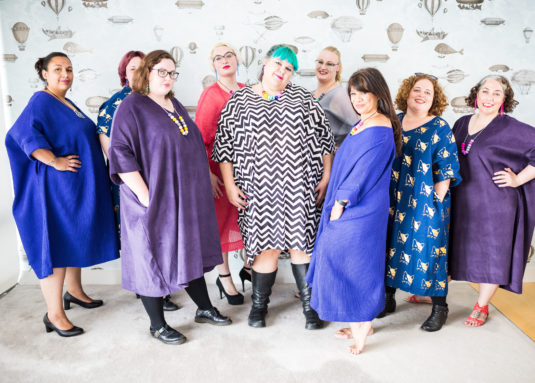 You use the words plus-size and fat interchangeably?
I sure do. I use the word fat freely because to me it's a neutral term like being tall or blonde. It's lazy jerks who use it as shorthand for lazy or greedy. And I use plus-size for the SEO of it, but if we take stats from the US about how 68% of women are a size 14 or over, you have to wonder why ⅔ of people are othered. Except you don't really have to wonder, because, as you know, patriarchy and bullshit standards of beauty. And now for the commentators to go "it's about your health" and for me to tell them to read this article then delete their hate.
What's the Wellington hook into this?
Without the village nature of Wellington and all the bloody excellent people contained within, I don't think I'd be able to have launched Boom. People here seem really happy to work together to help others succeed. I got introduced to the amazing Iona who's been my pattern-maker/production manager by Elisha from Nisa, which was vital because I have no garment knowledge at all.  Black Dog Brewery & Matahiwi Estate are helping me out with the launch and I get to order Pomegranate catering for the event which allows me to support the businesses that I think are doing good too. And of course, some of the best babes in town have modeled for me.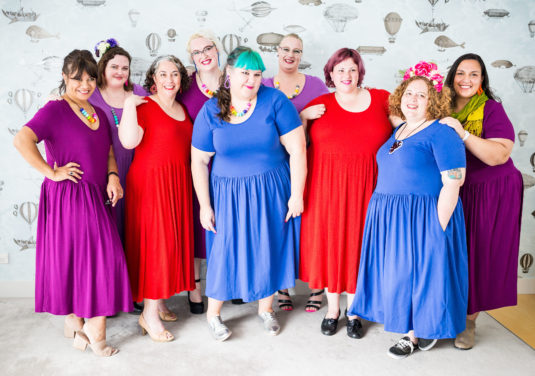 Where can people get it?
I really really really wanted to open up a physical shop and have it be a glorious experience, unlike other stores that hide their plus size clothing at the back, but my dream-crushing accountant said no no no to that. Instead, I'm having a pop-up on December 15 & 16  to launch the clothes, because I really want people to be able to try them on, and after that, they'll be available from the website.
Now it's not just House of Boom label you'll be stocking at your pop-up is it?
I'm so glad you asked that Martha! I'll also be stocking a carefully curated range of second hand plus-size clothing, both in order to make sure that fast fashion gets a second life and also to be more affordable, because did you know that fat women get paid less than 'regular' women?
Also there'll be prints from the lovely Ruby Alice Rose, as well as the jewellery from Throwing Feathers, Twigg and Fancy Lady Industries, as well as the amazing knickers from Fanny Adams. You don't even have to be fat to buy beautiful things!
Come along okay? Cool.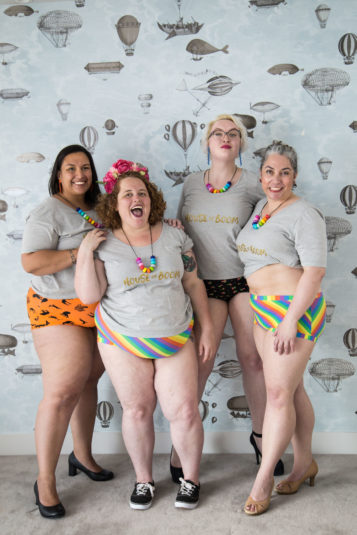 House of Boom plus-size clothing pop-up sale
Saturday 15 December / Sunday 15 December, 10am-4pm
189a Grant Road, Thorndon
Eftpos or credit card only please, no cash!
Keep an eye on the Facebook event for any updates