Preview: WHY ARE WE STILL HERE?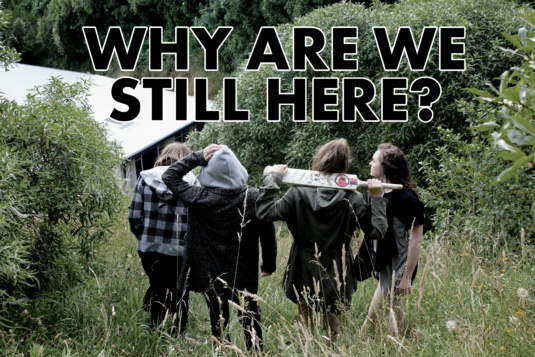 You'll remember Emma from h
er reviews right here on the 'ista
. Turns out she's putting her money where her mouth is, so I had a chat with her about it.
February 5-9pm
Bats Theatre
Emma! You're doing a play! What's it all about?
Four women break into an abandoned theatre one night to shelter from a storm. They're battered, broken, bereaved. Over the course of their night there, the theatre's ghostly occupants draw stories from them, and begin to grow closer to the runaways. However, all is not as it seems, and the women must do all they can to get out alive. It's a story about grief and found families, really. We all deal with a loss differently, and I found that ghost stories tend to be a very interesting way to explore that concept. Ghosts are like us, but also not like us – they're removed from time, but they're certainly not removed from emotion. I think it would be very hard to be a ghost. 
Tell us a bit about how this piece was developed?

We devised the first twentyish minutes of it with an original cast in Oct-Nov last year, then I wrote a play around it. It's been in the rehearsal stages since late November. 
Apart from being a critic for the Wellingtonista, what's your background history with theatre?
I've been acting on and off for the last seventeen years. I did my undergraduate degree in theatre and film, and this show is the culmination of my MFA in Theatre.
If someone was not really a theatre buff, any tips you could give them about how to watch a play?
You really don't need to be 'into theatre' to see theatre. Think of it this way – no-one ever says "Oh, I can't watch [INSERT SHOW NAME HERE] – I don't like television." NO-ONE does that. We all have something we like to watch on tv, even if it's just the news, or soap operas, or panel shows. Theatre is the same. There's always some kind of performance on that'll appeal to you. Whether that's a pantomime, or a musical, or a one-man show, there'll always be something that can appeal to you. I think we often get a little bit nervous going to theatre (if we don't go often). It's easier to watch faceless people on a tv screen who don't look at you or react to what you're doing in the audience, and that can be scary, but theatre's not an alien world. It's just a different way of creative expression.
Some tips
If you don't go to theatre often, shows marked as 'experimental' might be a little much. I'm not saying don't give them a go, but maybe start with something that's more well-hewn and recognisable.
Wellington is FULL of theatres. BATS supports emerging artists with unique shows, but I've seen some of the best shows I've ever seen there. Circa tends to do more script-based stuff, and then there's obviously the St James and the Opera House. If you don't go to theatre often, maybe start with an artist/performer you know? The Comedy Festival is coming up soon – there's a lot of well-known performers coming to town.
Just give it a go! You live in Wellington, one of the most creative centers in New Zealand. If you're not getting amongst you really should be.