Review: NZSO Baroque Series – Water Music
Telemann: Water Music "Hamburger Ebb und Fluth" (TWV 55:C3)
Händel: Water Music (HWV 348-350)
St. Paul's Cathedral, Wellington
Friday 1 Feb 2019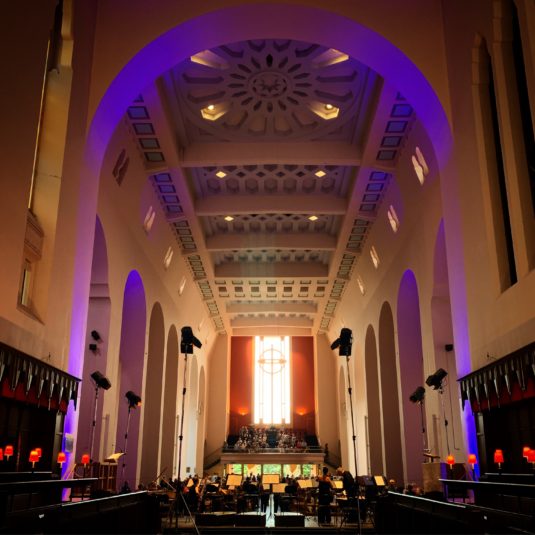 Listening to the two "Water Music" suites by Telemann and Handel fill the echoing expanse of St. Paul's, I wondered how it is we find reverberation so attractive. Is it a cultural association with the ineffable? These vast cathedrals, built to the glory of God, and to inspire (or cow) congregations, have also been filled with sacred music, usually the human voice. The opening notes of the Telemann—the first piece of the evening—reach your ears directly first, but a moment later reflect back from the distant surfaces of the church, and you are in the presence of something sublime.
We tend to think of baroque music as somehow pure, mathematical, even platonic, forgetting there are programmatic and descriptive works from that period, and ones that are the product of all-too-worldly royal, military or economic fealties. Telemann's suite was written to celebrate the 100th anniversary of the Hamburg Admiralty, and consists of 10 pieces variously referencing aquatic deities ("The sleeping Thetis"), maritime weather ("The pleasant Zephir") and naval life, including a Harlequinade to the god Triton, played here in a brilliantly off-kilter dance rhythm. The players stomping their feet in the closing bars of the final piece, in imitation of the "Die Lustigen Boots Leute" (the Merry Boat People), was a great touch.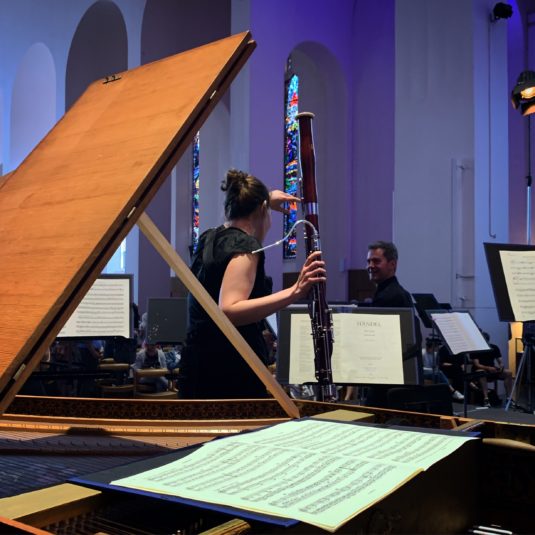 The first performance of Händel's Water Music was famously played by 50 musicians on a barge floating up the Thames. Concert director Vesa-Matti Leppänen explained that, while there were only 30 NZSO players, "we have more skill". Here's the curious thing about playing this suite in a cathedral. In the open air, the sound would have almost nothing to bounce off—a dead acoustic. Did Händel score his Water Music with this in mind? At St. Paul's, sounds can take several seconds to decay to nothing.
Another explanation for why we like long-decay reverb could be that it smooths out mistakes. Not necessary this evening. The playing throughout, by a band mostly on their feet, was masterful and effortless. (Is it harder to perform in such a reverberant space?) There was no printed programme, but in his introduction, Vesa-Matti apologised for this, saying it was just as well, because they would be playing around 40 separate movements, and without knowing where you were in the piece, you could clap whenever you felt like it. Which we did.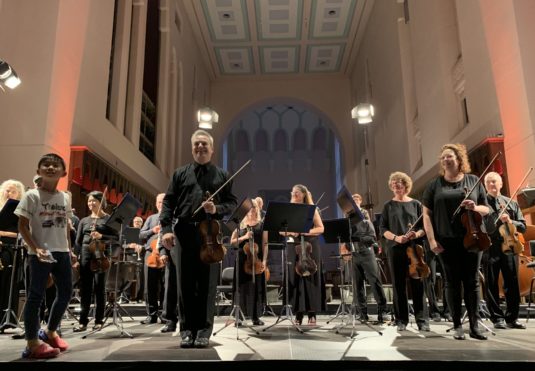 There's another NZSO Shed Series concert this Friday, February 8, with more baroque music by Bach; also Duke Ellington, Jack Body and Arvo Pärt. And the next in the Baroque Series, featuring more Telemann, is on June 8.