Review: Mincing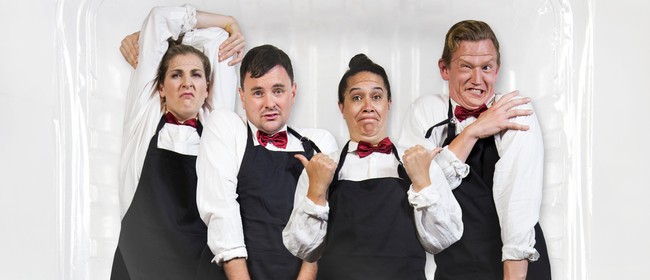 Mincing is a joy and I absolutely loved it.
Jimini Jolly Snr (Tom Sainsbury) runs the best butchery in Timaru, alongside his wife Marge-Irine (Kura Forrester), their son Jimini Jnr (Chris Parker) and their daughter Nicole (Brynley Stent). Jimini Jnr is off to New York to go to tap school, Marge-Irine is on a jaunt across Italy, and Nicole wants to go to Townsville to make feminist cupcakes and zines. However, the money's gotta come from somewhere, and Jimini Snr is obliged to stay at home to fund his family's lavish trips.
But, not all is fresh in the Jollys' world, and something is rotten in the butchery. You'll just have to see the show to find out what.
This story is fun for the whole family – all lathered with following your dreams and true life advice – until you come to all the incest (ish?), murder (??) and adultery going on. It's a Shakespearean tale, complete with all the trimmings.
Chris Parker's 'Raphael' – the dreamboat with a truly magnificent wig and an interesting take on an Italian accent – was a special highlight of mine, and I loved the cast's fantastic commitment to the ridiculous bits. Playing at least two characters each – sometimes more – we got to see the cast truly stretch their acting muscles, and it was a pleasure to see so much talent on show.
It's a delight to see performers really have fun on stage, and sometimes it felt like they were laughing as much as we were.
I'm going to see it again (and you absolutely should too).
Mincing is on at BATS Theatre until Saturday the 18th of May. Get your tickets from the BATS website!