Review: Big Dumb Cats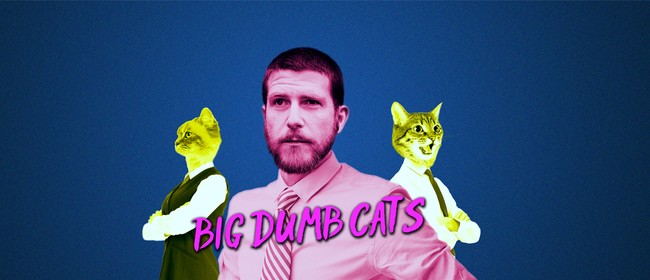 We are all just big dumb cats, stumbling around on two legs, expecting our feline overlords to hunt food for us to keep us alive. Daniel John Smith's Big Dumb Cats is part cat facts, part family parable, and all great comedy with a poignant message.
Smith's in the midst of an exciting office fashion show when he gets a two word text from his mother that really changes the vibe of the whole thing. However, not deterred, he finishes the fashion show with us, describing the clothing he shows off, and the emotional journey he goes on.
With a nameless cat, a considerable segment about homophobia and a homemade comicbook villain called Anal Man (the villain is almost exactly who you think it is), and more talk about buttholes than I would have expected, Big Dumb Cats is certainly out of the ordinary, but I really enjoyed it. Smith is a very clever comedian, with some truly fantastic sidebits – I personally loved his piece about Teletubbies and vicious murder.
The show's a little darker than you might expect, considering the title, but it's no less funny for it, and balances comedy and tension very, very well. If you're looking for a queer comedian with an utterly bizarre (and I mean that in a good way) sense of humour, check out Big Dumb Cats!
Big Dumb Cats is on at the Fringe Bar until the 18th of May, 2019. Get your tickets from the Comedy Festival website.