Blackbird Ensemble Performs Björk: All Is Full Of Love – Review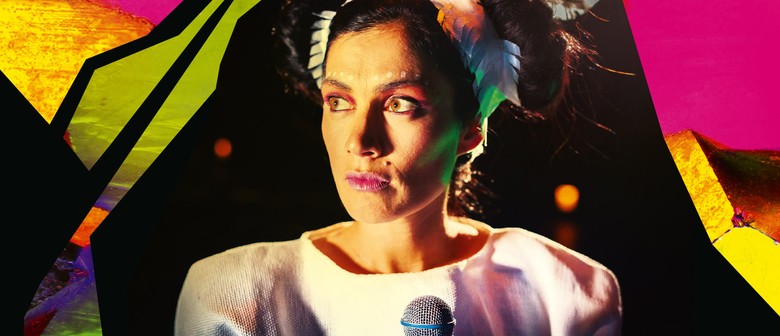 Blackbird Ensemble are "NZ's most exciting chamber orchestra", and Thursday's homage to Björk supported that claim more than competently.  A collection of strings, horns, percussionists, and Claire Cowan's multi-instrumentalism brought director Cowan's arrangements to vibrant and emotional life.  The musicians were more than just that; in their glowing boiler suits they became part of a sensory experience for the performers as well as the audience.  With everyone in white, and shards of crystal growing from the stage, it felt like we were blessed witnesses to some secret and ancient celebration.
Cowan's vision was comprehensive.  I imagine this show has been brewing inside her for years.  She's an exciting composer whose musical journey so far has spanned many genres, and it's no surprise that Björk was one of her earliest influences; she notes in one interview that it's what her older siblings listened to.  The arrangements were gorgeous, layered, and thoughtful.  Some of the arrangements felt like whole new songs, without ever straying from the feel and integrity of the originals.  Cowan treated the source material with love as well as with respect, and her belief in this project shone through.
I've listened to Björk  passively, rather than actively, over the last 25 years.  I was aware of her, very familiar with the hits, not at all with the lesser known material.  I loved her fearlessness and fierce individuality as a teenager, but it was never easy to identify with.  Her unique syntax and delivery can be distracting, and her refusal to comply with melodic or metric formula was definitely challenging to my younger taste.  But her knack for describing joy or love or defiance in pure unapologetic musical terms has always been the thing that made me love her music, even if I didn't thrash it for hours like friends of mine.
The Blackbird Ensemble, and Cowan's delicious arrangements, delivered some of Björk's love songs beautifully, and it was captivating.
Three brilliant vocalists joined the party, supported by a sensitive sound design (although occasionally a little heavy on the reverb).  Anna Coddington is an extraordinary performer, as well as a spectacular singer, and she seemed to have been custom-ordered just for this occasion.  Like a child dressed up in her big sister's first Communion dress, she scampered and swayed around the stage, while her enormously flexible voice soared and belted with perfect control and immense emotion.  Incredible.
Priya Sami has a beautiful voice, and her delivery of A Hidden Place was especially lovely.  It would have been nice if she'd had more room to stretch dynamically, but her numbers were all of the more subdued and triphoppy type.  She became more a part of the orchestra, another instrument, than a soloist.
Mara TK is a huge talent in this country, but I'm not sure if he was in the right place.  I'm not sure he knew, either – his physicality was more awkward than I've ever seen him and the songs he performed barely used his sweet tone and wicked range.  His most natural and engaged moment was when he bantered a bit with the audience, mocking Trump and teasing us about Wellington needing to up our Te Reo game.  Then, starting his rendition of Virus, he seemed a little more relaxed and happy for a bit.
There were a couple of other moments when the audience was drawn closer…  but for the most part it was concert, rather than gig.  The performers interacted a little with each other, barely with us; the music was the point and that was their focus.  That may have been the intent, and Cowan's direction.  As we were reminded early on, "She's the boss".
It was a truly excellent, enjoyable show, and while there was a focus on more atmospheric songs, there were absolutely a few moments of fun and joy.  Still, in an intimate theatre space like Shed 6, with an audience who clearly were there out of love, it could have built to an exhilarating musical bacchanal.  Instead, the performance and its deserved encore left us feeling comfortably mellow.