Sun Araw (US) w, Orchestra of Spheres Thursday at Happy
Another excellent show on Thursday, you can even make it after Flying Nun at City Gallery Wellington.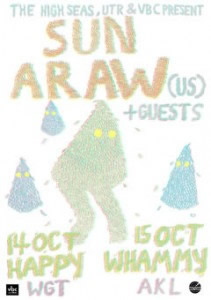 SUN ARAW is the sound of the late-night party deepening to cosmic levels as you turn up the bass and fog up the place. Mantras emerge from voluminous reverb. Old-school Jamaican grooves roll deep with Afro-funk guitar. Shuddering percussive delays stretch out to the event horizon. It's like taking a journey from Kingston via Nigeria en route to the heart of the sun.
Hailing from Long Beach, LA, Cameron Stallones is the man behind this musical solar storm. A member of heavy rockin' psych-revivalists MAGIC LANTERN as well as recording with the likes of POCAHAUNTED and VIBES, Stallones infuses his lysergic blues with a hefty dose of tropical sunshine in some places, and deep-as-space Kraut-drone elsewhere. Moments on his latest double LP ON PATROL (Not Not Fun Records) sound a little like Lee Perry going crazy in the Black Ark Studio with members of the Sun Ra Arkestra, with an appropriately cinematic feel as the different sonic dimensions shift in and out of focus.
The SUN ARAW live experience sees Stallones taking the recorded material even further into realms of dubbed-out bliss, utilising guitar, Farfisa organ, vocals and a whole lot of delay to entrance the crowd in his colossal hypno-grooves. If astral projection had a soundtrack, this would be it.