Big Drypnz
If you're in the market for a real bona fide "Holy shit, look at that!" experience, try heading down to the eastern end of Abel Smith Street, opposite the Southern Cross.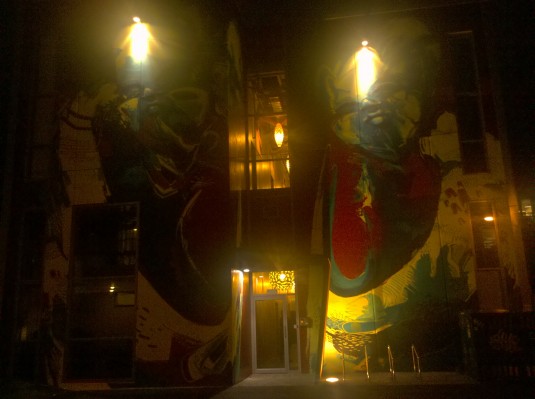 Where on the corner of Wigan Street there was once a Tattoo Museum (or this), with an imposing moai on the street front (image), there is now the three-storey Tattoo Apartments building. That's not the "holy shit" moment, however. The "holy shit" moment is related to the massive (MASSIVE! three-stories massive!) artwork by reknowned local street-artist Drypnz that adorns the Abel Smith Street-facing edge of the building — two (significantly more than the moai) imposing figures presiding over the entranceway like a pair of sentinels or possibly even LOTR's Argonath.
This is the most courageous large-scale building decoration I've ever seen or heard of. Much respect to the building owner.