Incoming: Supermodel and Sleeping Dogs
Wellington rockers Supermodel are teaming up with Christchurch wave-makers Sleeping Dogs and kicking off the year with a North Island tour. They'll be back in Wellington later this week. Both bands are promoting their UK-produced albums which were released in 2011.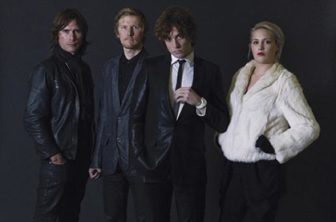 The Wellington show is the eighth of eight shows, so they'll be niiiice and road-honed by the time they get here.
Press kit time:
Supermodel have been receiving rave reviews of their current LP, To the Mountains, with some critics calling the record "a real mover and shaker of a release"; that its "colour and punch… sets Supermodel apart from other bands on the Wellington landscape". The record went straight to top position on the iTunes rock charts at the time of its release. Supermodel are a brilliant live act; tight vocal harmonies meld perfectly with concise and catchy rock arrangements that have beautiful sing-along choruses.

Sleeping Dogs are also touring their current album and have received similar reviews. Their songs have been described as "unavoidable, deep and unapologetic", while their sound and style is "extravagant, big, epic and over-the-top, with long, long instrumental parts". They, like Supermodel, secured the services of highly sought-after UK producer Greg Haver, along with the in-house mixing talents of Clint Murphy, giving their album Myth Reducer its huge, classic rock sound. The video of their single, Myth Reducer has been receiving airplay and music television rotation.
That sound bloody unmissable, doesn't it? The fun happens at Bar Bodega, this Friday 17th February. Cover $10, tickets (and links) at www.undertheradar.co.nz.
You can score yourself a double pass to the show by correctly identifying the band in the photo (above). Is it Sleeping Dogs, or Supermodel? First correct answer in comments wins!
Supermodel and Sleeping Dogs
Bar Bodega, Friday 17th February