Parking ourselves at the Park Hotel (and a giveaway)
About a month ago, we attended the opening of the Park Hotel where we ate amazing canapes from Sterling (which we have raved about before), and heard newly crowned mayor Justin Lester say that Wellington needs 1000 new hotel rooms to sustain growth (the Park Hotel has 137, fyi). We had a thoroughly excellent time, and were well pleased to hear that they're doing their best to reinvigorate the  soulfree zone that is the Terrace. It was fun to get a tour through some of their rooms too and I have The Pavilion in mind if I ever get to host a fancy party.
So when the lovely people at the Park Hotel invited us to stay a night and produce a full review, we were more than happy to do it. Kris and I decided we'd have a girls' night in because why should couples have all the hotel fun?
The night we checked in was the Friday a couple of days before the earthquake, so here's the most important thing you need to know: the hotel is open and operating as normal. It has been assessed and the building is cleared as safe for occupancy following the earthquake.
We were promised an Executive King Studio but looking at the site now, I think we were in a Superior King Studio. Not to worry, there was plenty of space for five girls to flop over the bed, in the super comfy armchairs and deskchair and drink a little bubbly before dinner.
The hotel is an old 70s/80s office building but the inside is really nice. The front desk stocks Wellington products from Six Barrel Soda Co, Fix & Fogg and the Wellington Chocolate factory, and there's a growing library shelf of books left behind by others. You need your key card to access your floor in the lift, which is great for security, but not so great when you have guests coming, and you have to plunge the room into darkness to take the key down to meet them. Luckily the doors are the more modern kind of key card entrance where you just have to wave the cards at them rather than the tricky insert, wait, pull out system.
The rooms at the Park Hotel have more personality than the beige bedspread stylings of too many hotels.  They have opening windows (though the handles on one of ours were broken), and while they're not double-glazed, the Terrace and Lambton Quay are not known for being particularly rowdy at night. The interior of the room looks like it would get a solid 9/10 points from The Block judges, with a wood feature wall, copper accents and vaguely Scandi furniture. Importantly it had wine glasses and tumblers we could drink from, and you couldn't hear people peeing in the bathroom, which is really nice.
Speaking of the bathroom, it was compact, but functional. We took a photo of an average size person in the bath for scale.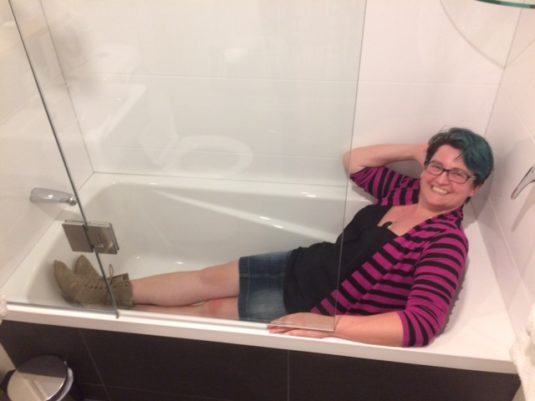 The bed, meanwhile, was plenty big, and I bloody loved the little grey comforter on the end, perfect for napping under.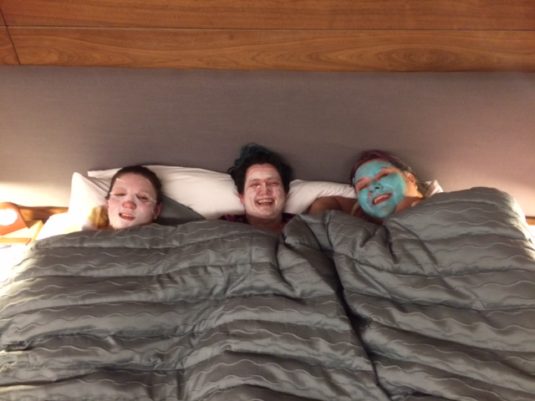 But before we had facials we had dinner downstairs in Sterling, which is quite lively on Friday nights now with post-work drinkers and then clever diners. I'd been haunting the online menu since we first made our plans, and I was determined to order a great big piece of beef for us to share. Imagine my sadness when I discovered they'd updated their menu! And then imagine my joy when it turned out that a bone-in roast was on special! So many feelings! So we got our 800 grams of meat and two sides for $70. In fact, the five of us ordered two starters (ostrich carpaccio and bruschetta with peas, sorrel and goat bacon – that goat bacon was fricking AMAZING), and five sides with our beef.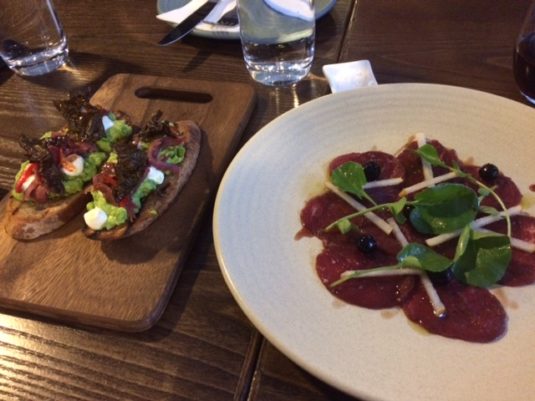 The pigs' ears were much like calamari being chewy and deep fried, to be honest, but the other salads were nice but not especially noteable. The beef was fabulous though, and the wait staff didn't bat an eye when I asked for the bone to go for my cats. All that food plus two bottles of red wine came to $224 for five people, which is pretty damn reasonable.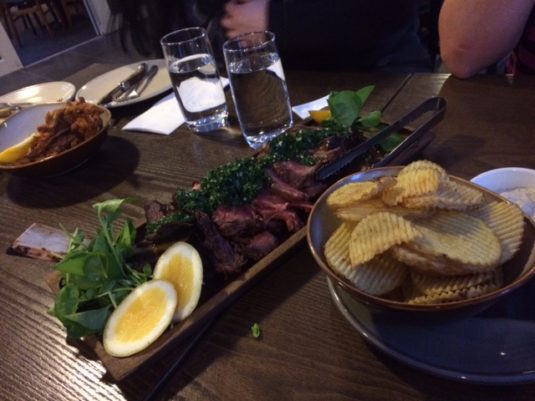 Back in the room we tried to figure out what the weird building in the distances was (turns out it's the Wellington Club which everybody but us knew). We ordered more towels since we were doing beauty treatments and they arrived in four minutes flat. Excellent service. I went home to my own bed and cats sometime in the early morning, so I'll let Kris pick up the narrative here about how she slept and breakfast in the morning. Take it away, Kris!
I was very ready for bed by the time Jo left. Lots of laughing, wine, and good food will do that to a woman. We'd had the blinds open all evening to look at the city lights. I was impressed by the amount of light they blocked out when I dropped them down. I can't sleep unless the room is dark so this was good for me. With the windows closed it was really quiet. The bed was super comfortable with enough blankets that if there were two people in the bed with differing needs for warmth both people could be happy. I got a small sleep in the next day – although I could have slept for another hour I had a breakfast date to get to (note: standard checkout time is 11am, rather than 10am which is nice). After a quick shower (aerated shower head with good pressure) and I was back downstairs to Sterling for breakfast.
The breakfast-included menu is different to the regular restaurant menu. The day we were there a large group had got in before us so a couple of the dishes weren't available. Not that it mattered to us. I went for the ham and cheese croissant. It was a perfect blend of buttery croissant, tasty ham, and melted cheese. J chose the toasted bagel with egg and avocado salad, and watercress. The egg and avocado is more of a mash than a salad. J started off eating it suspiciously and by the end had decided that they'd order it again.
I took J upstairs to see the room as they'd worked in the building when it was a office block. It turns out their desk used to be located where the desk in the room was! We also ran into someone else we knew who we hadn't seen for a while. Wellington really is the best city for catching up with friends. Then it was checkout time and out onto Lambton Quay for some shopping.
Oh, but how's this for burying the lead – we actually have a giveaway! So you too can have good times outside of your own bed, you can win a one night stay at the Park Hotel in a Superior Heron Studio, with two complimentary breakfasts at Sterling (valid between 4 December and 27 January 2017). Fab!
All you have to do is leave us a comment telling us why you want to stay at the Park Hotel by 5pm December 4. We'll draw a winner at random (unless we decide that we absolutely love a story so much it has to win which we reserve the right to do).