What not to wear to the sevens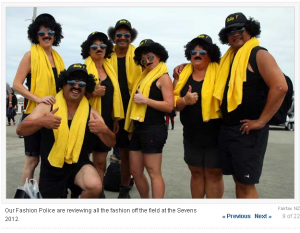 It's that time of year when people will call us buzzkills for not enjoying having our streets extra-clogged with vomit and having all of our female friends feel extra unsafe on the streets because of all the douchecanoes who think that because they're wearing a costume they can harass with impunity.
But we're not buzzkills, really! And to prove that, we've put our heads together and come up with some Wellington-inspired ideas for your Sevens costumes.
Nothing that would involve you wearing blackface. Blackface is never ever ever okay.
"Wear rugby kit and go as a rugby fan".
Go as a posse of Wellington personalities, like Enzo from Duke Carvell's, Sally T from Mighty and Terry Serepisos (note: orange face is acceptable).
"Wear a beard, flat-cap, expensive-looking thrift-store-style garb, bandolier of craft-beer bottles, and a lurid pink Joanna M-sized lipstick kiss. Don't go to any games. If anyone asks, you were in a Wellingtonista costume."
Just don't do blackface, okay? And don't harass people in the street. What are your costume ideas?