If this were the Aucklandista site, this'd surely be about Millie. But it's not. Besides, we'd never heard of her until yesterday. Millie Elder? Millie Holmes?
Anyway… that's just alluding to celebrity gossip to lure you in. And to trap the googlers… yoohoo!!
Here in the Capital city, when we talk about stars we talk about the really big ones! Real stars.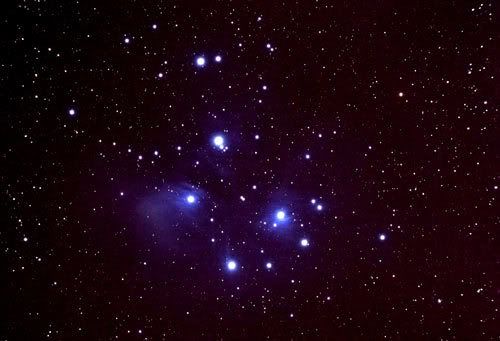 Matariki.
In May or June each year, just before dawn (yeah right!) look toward the North Eastern horizon & you should see the Matariki constellation. The Greeks called it Pleiades (although they view it upside down to us) or the Seven Sisters, the Japanese called it… Subaru!
To Maori, it marks the New Year, and is associated with the Winter Solstice. The name itself literally refers to the Eyes of God.
This month till the 1st of July, Te Papa are hosting a Matariki Festival, click through for further details.
Further information on Matariki itself, can be found here, here & here.