WOAP '16: a burger, a stew and a beer
The mad rush of eating continues, so without any further ado, let's get into it.
The Steakholder at Portlander
You know by now how we feel about the Portlander, so of course this was going to be on my wishlist.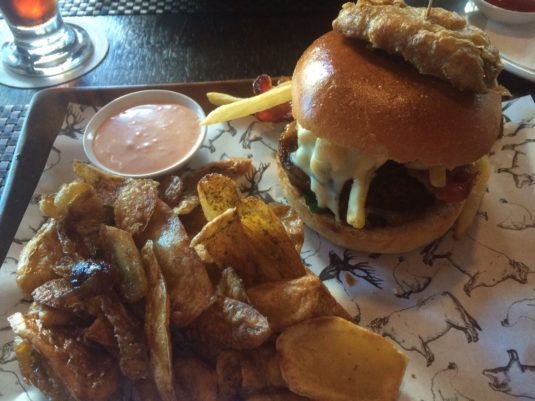 "Medium rare rib eye with Scotty's Meats double smoked bacon, fried egg, onions, melted Te Horo Swiss cheese, shoestring fries, seed mustard and Huffman's Hot Sauce in an Arobake bun, with frickles and agria potato skins."
Oh fuck yes this was good. Normally I'd like my steak rarer, but it makes sense in a burger for it to be medium rare so it's not as chewy. I should also point out that I asked for mine without the egg, because eggs are gross, but I can imagine if you were a person who likes eggs, this would be good. There was the right amount of mustard and a little spice from the hot sauce, and oh Lorde, that bacon, it was dreamy. Full disclosure: half way through the burger we found out that they were on the house because. This did not affect my review because honestly, I think that picture speaks for itself. It is a shame though that Portlander is a DB bar and therefore not allowed to serve a matching Garage Project beer, because I think the Lola would have been a better match than the inhouse beer they suggested.
If you like steak burgers (or if "steak" burgers that are tough, chewy and 5mm thick have made you shy away from the concept but you'd like to trust a restaurant specialising in steak to get it right), please do remember to make a booking, because the Portlander is, as always during WOAP, overflowing.
The Old Bailey
Today my colleagues booked in to eat the burger at the Old Bailey, and since I'm allergic to crab, I tagged along to try their Festival Dish. You may have seen on Twitter that the Wellington on a Plate website lists their dish for $15, but the menus in house have it at $25. I'm really glad that after I pointed this out to the staff, they only charged me $15, because honestly, there is no way that Dark and Hot Caribbean Stew is worth $25, even with a glass of wine. The three meats were slow cooked but dry, and indistinguishable from each other. There wasn't really any fire to the dish, more just an overwhelming intensity like soy sauce. The cassava & coconut bread was actually really nice, but did nothing to to freshen the dish up. I didn't take a photo of it, but you know what a plate of stew looks like, right? Instead, here's a photo of the crab burgers.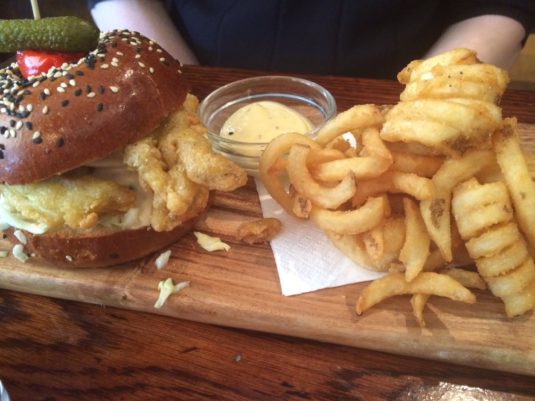 Apparently the buns weren't very fresh and the crab not too prominent, though there was a good zing of lemon. Little things like having to ask for a spoon when you're served a bowl of sauce and the fact that you actually can't get your legs under the table unless you're very very short also made the experience not great. Though my colleagues are of course lovely and delightful company. Again, the bar is DB owned, so there was no Garage Project match.
That's okay though, because waiting for me at home in my fridge was…
Lola, the cola beer
This is a collaboration between Garage Project and the good people at Karma Cola
"Brewed with citrus, spices, whole sour cherries and Karma Cola cola nuts, Lola's got quite a tangy cherry flavour with a kick of cola at the end."
Some googling shows me this has been made before in small batches in collaboration with Six Barrel Soda, but now it's in cans, and more widely available during Wellington on a Plate at Dragonfly, Five Boroughs, Hillside Kitchen, LBQ, Logan Brown, Monterey, One Fat Bird, One80 Restaurant & Bar, The Lido, The Larder and The Library. More importantly, 20 cents from the sale of each can goes to the Karma Cola Foundation, whose good work we talked about alongside of beers before here.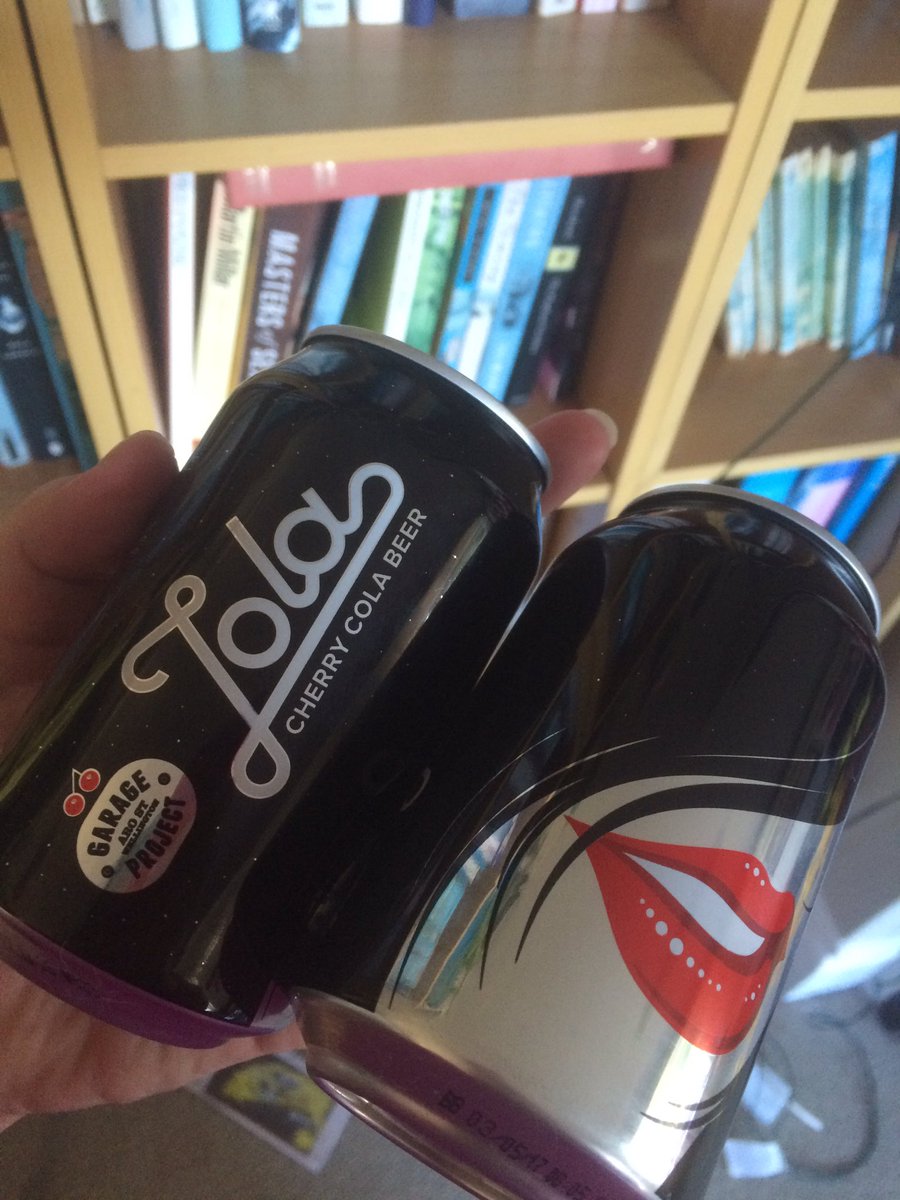 I was delivered two of these beauties to try and I loved it. I've found a lot of beers that have strange ingredients in them don't taste like that at all, but this was the perfect blend of beer and cola, without seeming at all like the dregs of everyone's glasses mixed together – though it isn't particularly cherryesque. Like Karma Cola it's not overly sweet, and it's got spices in the mix, and like beer it's got alcohol too. It's well worth trying. Plus it looks just like cola in a glass if you need to hide your drinking…
This beer is obviously inspired by the (problematic) song from the Kinks so I'm a little iffy with the tagline on the can "Things are not always what they seem; Lola, a cherry cola dunkel, a boundary-bending trans-style take on the classic german dark lager" because it seems to me like cis people coopting trans people for profit. But it is a delicious beer, money is going to a good cause, and it will go very well with burgers.  So I'll drink it as a tribute to the most famous cat in Wellington instead.