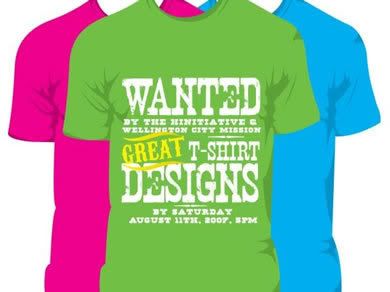 All you budding young clothes designers out there should be getting whatever it is you use to design clothes ready for The Hinitiative and Wellington City Mission T-Shirt design contest that kicked off this week.
Open to all Wellington high school students, entries will be judged by a panel that includes Wellington fashion designer, Robyn Mathieson, clothing stores Fusion Surf & Skate and Rex Royale, and The Church design company. The first place winner takes home $300 in store vouchers. Second, third also get store vouchers, but not quite so many. In addition, all four finalists will have their winning designs produced into t-shirts by The Hinitiative and sold by selected stores in Wellington to help benefit Wellington City Mission.
Do good, and look good doing it.
More info at the Hinitiative website, and here's a direct link to the design brief. Contest deadline is Saturday 11 August.