… but Fringe '09 is just a week away, and there's a lot to get excited about. We may have missed out on the chance to see some Aristophanes under the wharves, but here's a couple of other things that we have our eyes on.
Lies and Other Stories Before Bed had a sneak peak/fundraiser event at Mighty Mighty last week, and it looks to be a riot. It will combine film and animation with live performance in the cozy surrounds of the Southern Cross, and with a plot that involves scary hallucinatory children, swingers' parties and a European seductress it seems like just the sort of realistic kitchen-sink drama that we can all relate to. Or maybe that's just me.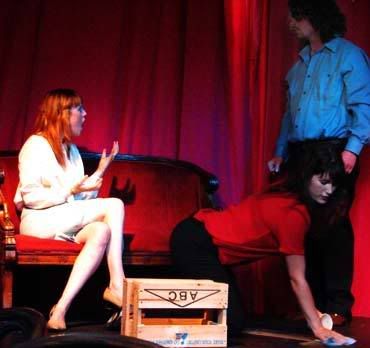 The musical line-up looks strong this year, too, and there are plenty of acts worth salivating over, but … oh my circuits: We Are The Robots! Disasteradio and TVDisKo will be familiar to many of us, but when you add in Hamilton's most charismatic exports, The Trons, you know it'll be a night of mechanical mayhem to savour. More info and YouTubular goodness over on Mukuna. I'm not normally a fan of garage rock, but when the band looks as if it's actually been built in a garage, that's another story.
Update: there's been a slight change of line-up for We Are The Robots, with Heat Like Me replacing Disasteradio.