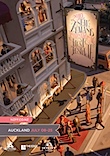 It's never been a tougher time to be running a film festival. In addition to the usual commercial considerations of just selling enough tickets to stay afloat, each year brings with it fresh wrinkles to be accommodated. The window of availability of titles shrinks every year because distributors don't want to sit on their investment. There's increasing pressure to get films into cinemas before downloading destroys the market and less time for films to build a deserving international buzz.
In previous years films like the Argentinian Best Foreign Language Oscar winner The Secrets in their Eyes might have been tent-pole features for a Wellington Film Festival but have already been and gone from local cinemas so it's incumbent on director and chief programmer Bill Gosden (and his cohorts) to dig deeper to find more gems for our annual mid-winter fix.
People keep asking me, Dan, they say, what sort of Festival is it, this year, and I have to answer that I really don't know. I've only seen 19 out of the 160+ movies in the book. That's not enough to know anything, really, about the Festival as a whole. It's less than 15% of an enormously rich and diverse smorgasbord of potential goodies.
As usual, I asked the Festival people to feed me the unheralded and unknown, the films that might miss out on attention from the big media, and they did. As might be expected, not all of them worked for me but I have some suggestions for films that I am assured will not be coming back on general release later this year.
In the drama section I was very affected by Honey, a beautiful Turkish film about a young boy with some kind of learning disorder, desperate for the approval of his teachers, classmates and his taciturn beekeeper father. A fine example of slow cinema, I feel certain that you will be absorbed by its beauty and the miraculous central performance.
The rest of the Wellingtonista preview, after the jump.