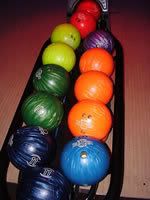 Oooh! Things are really getting exciting now.
Former league champions Xero took on Clemenger last night and didn't come out victorious.
Meanwhile the random point awarded for most gutter balls (chosen by Silverstripe as last week's random point winners) allowed the Bowlingtonista to give up last place to ClickSuite – although if I could repeat my hilarious joke about there being no 'I' in 'Wellngtonsta Bowlng League', ClickSuite did once again have the highest scoring individual player. Ryan managed to beat Clemenger's Dr. Broad for that title even though Dr Broad got four strikes in a row, and ClickSuite are no doubt weighed down by their ridiculous facial hair that they're growing for Maystache.
And while Bowltron had promised to form into one mighty lion if their score went over 500, unfortunately that just didn't come to pass. They still creamed us though, even despite our attempts at distraction with clever rhyming chants. League table and individual points after the jump.